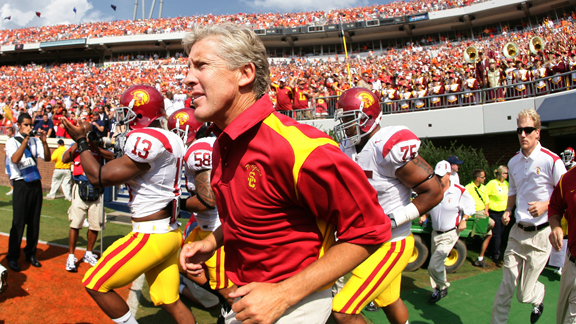 Check out our other 2009 college football previews.
Preseason Ranking: No. 4 in AP Top 25; No. 4 in USA Today Poll.
Key Returning Players: Aaron Corp (QB); Mitch Mustain (QB); Stafon Johnson (RB); Joe McKnight (RB); C.J. Gable (RB); Damian Williams (WR); Charles Brown; Anthony McCoy (TE); (OT); Butch Lewis (OT); Jeff Byers (G); Alex Parsons (G); Kristofer O'Dowd (C); Taylor Mays (S); Everson Griffen (DE); Drew McAllister (S); Kevin Thomas (CB).
Key Losses: Rey Maualuga (LB); Brian Cushing (LB); Fili Moala (DT); Mark Sanchez (QB); Kevin Ellison (S); Cary Harris (CB); Kaluka Maiava (LB); Clay Matthews (DE); Kyle Moore (DE); Patrick Turner (WR); David Buehler (K); Greg Woidneck (P).
Player to Watch: Matt Barkley, QB.
Barkley is the much-ballyhooed freshman who rather surprisingly beat out sophomore Aaron Corp and Mitch Mustain (a redshirt junior transfer from Arkansas) for the Trojans' starting quarterback job this summer. Barkley will be the first freshman starting quarterback at USC during head coach Pete Carroll's era, so the pressure is on. He's a gunslinger in every sense of the word, which can be both good and bad. He has the arm strength to make every throw, but the knock on him is that he'll try to force the ball into tight coverage and therefore has the penchant for throwing interceptions. The notion is that Corp (who is battling a leg injury) isn't healthy enough to start the opener and therefore Carroll named Barkley the starter to instill confidence in the young signal caller. It's unclear at this point if Carroll will stick with Barkley if he struggles early in the season, or if Corp will eventually take over.
Team Strength: Even though the Trojans lost their starting quarterback (Mark Sanchez) and their top receiver (Patrick Turner) from a year ago, the USC offense should once again be explosive. The Trojans return all five starters on the offensive line and have a trio of talented backs in Stafon Johnson, Joe McKnight and C.J. Gable. The receiving corps also has plenty of quality talent in Roland Johnson, Damian Williams and Stanley Havili. As long as Barkley or Corp can step up and replace Sanchez, USC offense will once again be tough to stop.
Potential Weakness: While USC always has a fantastic recruiting class, the Trojans lost a ton of defensive talent with the departures of Rey Maualuga, Brian Cushing, Clay Matthews, Kaluka Maiava, Fili Moala, Kevin Ellison and Kyle Moore. The defense returns just three starters from a year ago and while one of those players is superstar safety Taylor Mays, the Trojans are going to have trouble filling all of those vacant spots. Again, USC always retools, but can the unit gel fast enough for this team to stay in the national title hunt?
Outlook: While teams like Cal, Oregon and Oregon State must be licking their chops at the chance to overtake a depleted Trojans team, USC reloads better than any program in college football and once again are the favorites to win the Pac-10. That said, this team has a ton of question marks, most notably surrounding the quarterback situation and the lack of overall experience on defense. Will Barkley succumb to the pressure in his first season? Will the Trojans have to rely too heavily on their running game? Can the new players on defense gel? If Barkley proves he can fill the shoes of Sanchez or if Corp can step up and replace the freshman if he stumbles, then USC will once again knock on the door of a title. And while USC certainly seems primed for the taking this season, Carroll is going to have the Trojans ready to play on Saturdays and will get a huge early season test when they travel to Columbus to take on a loaded Ohio State team. If they take it to the Buckeyes, they can build off that success all season. And as long as they don't get tripped up by an unsuspecting opponent (like, the Beavers on October 24 for example), then the Trojans will be in national title contention.