2009 CFB Preview: Alabama Crimson Tide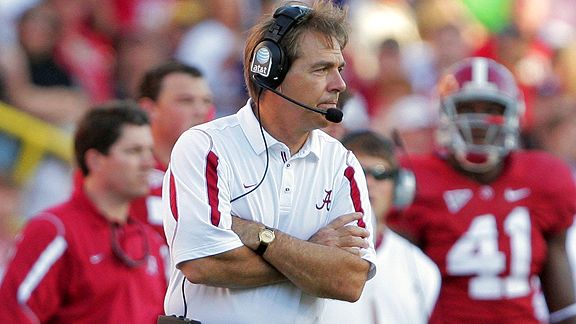 Check out our other 2009 college football previews.
Preseason Ranking: No. 5 in AP Top 25; No. 5 in USA Today Poll.
Key Returning Players: Greg McElroy (QB); Mark Ingram (RB); Julio Jones (WR); Rolando McClain (LB); Don't'a Hightower (LB); Cory Reamer (LB); Brandon Deaderick (DE); Terrence Cody (DT); Brandon Fanney (DT); Justin Woodall (S); Javier Arenas (CB); Kareem Jackson (CB); Leigh Tiffin (K).
Key Losses: Glen Coffee (RB); John Parker Wilson (QB); Rashad Johnson (S); Andre Smith (OT); Antoine Caldwell (C); Marlon Davis (G); Bobby Greenwood (DE); Travis McCall (TE); Nick Walker (TE).
Player to Watch: Terrence Cody, DT.
At 365 pounds, Cody is without a doubt the key cog in Bama's defensive line. "Mount Cody" tallied 24 tackles with 4.5 tackles for loss last season, which made him a consensus First-Team All-American. He was also named a First-Team All-SEC selection by the conference coaches, as well as the AP. As long as he can stay healthy (he missed some time last season with a sprained MCL), Cody will once again be a force in the interior of Bama's defensive line.