2009 CFB Preview: Oregon Ducks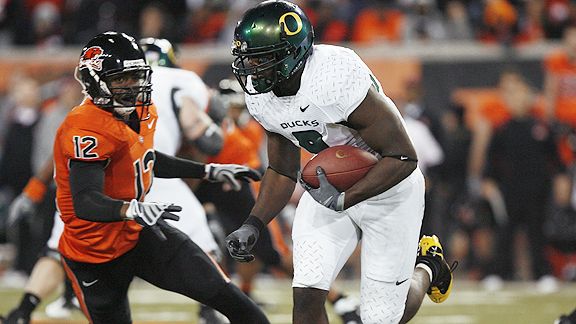 Check out our other 2009 college football previews.
Preseason Ranking: No. 16 in AP Top 25; No. 14 in USA Today Poll.
Key Returning Players: LeGarrette Blount (RB); Jeremiah Masoli (QB); Ed Dickson (TE); C.E. Kaiser (OT); Jeff Maehl (WR); Bo Thran (G); T.J. Ward (S); Will Tukuafu (DE); Walter Thurmond III (CB); Clay Matthews (LB); Spencer Paysinger (LB).
Key Losses: Patrick Chung (S); Max Unger (C); Jairus Byrd (CB); Jerome Boyd (LB); Ra'Shon Harris (DT); Jeremiah Johnson (RB); Mark Lewis (G); Nick Reed (DE); Cole Linehan (DT); Justin Roper (QB); Terence Scott (WR); Fenuki Tupou (OT); Jaison Williams (WR).
Player to Watch: LeGarrette Blount, RB.
Blount didn't get off to a great start in '09, as he was suspended for missing strength and conditioning workouts in February, then reported to spring practice in April in less than ideal physical condition. (He weighed 10 pounds heavier than his normal playing weight.) But things started to turn around in early August, as Blount reportedly dropped 20 pounds off his spring weight and then showed off his new frame by rushing seven times for 52 yards in a recent scrimmage. Along with his quarterback, Jeremiah Masoli, Blount is Oregon's top playmaker and the backbone of the offense. He's a bulldozer and as long as he can stay healthy (he was nicked up earlier this spring), he should be in store for big season.
Team Strength: The backfield combination of Blount (1,002 yards, 17 touchdowns) and Masoli will be a formidable duo once again this year. Masoli is coming off a 1,744-yard, 13-touchdown season and also racked up another 718 yards and 10 scores on the ground. Even though the Ducks' offensive line has depth issues, Blount and Masoli are going to be tough to stop in '09 and Oregon should once again light up the scoreboard.
Potential Weakness: The Ducks ranked 111th in the nation and dead last in the Pac-10 in pass defense last year and considering Byrd and Chung will be playing in the NFL this season, it's hard to believe that Oregon's secondary will be improved in '09. The Ducks' pass rush is solid, so maybe the secondary will overachieve and Ward and Thurmond III will step up and have big seasons. If not, Oregon will continue to struggle when their pass rush can't get to the opposing quarterback.
Outlook: Even given how potent their offense will be again, Oregon has a tough hill to climb in '09. Not only do they return the fewest starters in the Pac-10 this year, but they also have the toughest non-conference schedule in the conference with matchups against Boise State, Purdue and Utah. Blount (assuming he can stay healthy) and Masoli are set up for solid seasons, but the team must replace three starters on an offensive line that also lacks depth. Although the return of Tukuafu is huge, Chip Kelly's defensive line has depth issues as well. Factor in a poor secondary and Oregon will struggle again defensively this year.
With Blount and Masoli, the Ducks' offense will be incredibly explosive again. But given their major defensive woes, lack of depth on both lines, and their tough non-conference schedule, Oregon may have a tough time staying in the top 15 all year.