2009 CFB Preview: Georgia Tech Yellow Jackets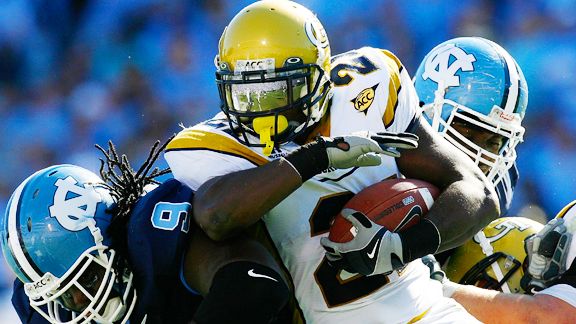 Check out our other 2009 college football previews.
Preseason Ranking: No. 15 in AP Top 25; No. 15 in USA Today Poll.
Key Returning Players: Jonathan Dwyer (RB); Josh Nesbitt (QB); Demaryius Thomas (WR); Lucas Cox (RB); Anthony Allen (RB); Roddy Jones (RB); Cord Howard (G); Dan Voss (C) Tyler Melton (WR); Scott Blair (K/P); Anthony Barnes (LB); Morgan Burnett (S); Derrick Morgan (DE); Mario Butler (CB); Sedric Griffin (LB), Kyle Jackson (LB), Dominique Reese (S); Rashaad Reid (CB).
Key Losses: Michael Johnson (DE); Vance Walker (DT); David Brown (OT); Andrew Gardner (OT); Darryl Richard (DT); Jabi Word-Daniels (CB).
Player to Watch: Jonathan Dwyer, RB.
In Anthony Allen, Roddy Jones and Lucas Cox, the Jackets boast a slew of talented backs, although Dwyer is the cream of the crop. Running backs coach Brian Bohannon worked all spring on trying to find ways to get his best players on the field more, including lining his backs up in both the A-back and B-back positions in Tech's offense. A legitimate Heisman candidate, Dwyer is often the most exciting player on the field and thanks to Bohannon's new schemes, the back should get even more opportunities to shine in '09. As long as a recent hip flexor injury doesn't slow him down, Dwyer should be in for another great season.
Team Strength: After ending last season ranked fourth in the nation in rushing offense, the Jackets will once again be dominant on the ground. Every one of their backs is a threat to break a long run and as soon as backup Jaybo Shaw is healthy again, Tech should also get rushing production from their quarterback position as well.
Potential Weakness: Tech's defensive line lost three significant pieces in Johnson, Walker and Richard, which begs the question of whether or not they'll be able to provide a consistent pass rush this season. Morgan finished with seven sacks last year, but without Johnson on the other side, will he be as effective?
Outlook: There's little doubt that Tech will have success on the ground again this year and head coach Paul Johnson set out this spring to improve the passing game. If the Jackets can make opponents pay for stuffing the box in efforts to stop the run, then Tech's offense will be even harder to stop this year than it was in '08. Defensively, the losses of Johnson, Walker and Richard could be crippling. But the good news is that the linebacker corps of Anthony Barnes, Sedric Griffin and Kyle Jackson is set to return, as well as three of four starters in the secondary, including the highly productive Burnett. As long as the Jackets can create pressure on the quarterback and not leave the back seven stranded in coverage, the defense is good enough to keep opponents in check.
Tech returns more starters than any other team in the ACC, which means they should not only be competitive, but also challenge for a conference title this season.