Papelbon voices displeasure over Sox potentially acquiring Wagner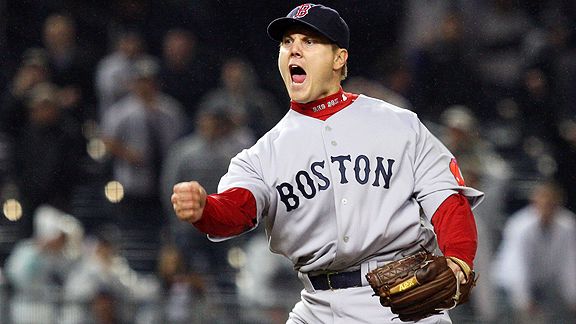 Red Sox closer Jonathan Papelbon isn't thrilled about his club potentially acquiring reliever Billy Wagner from the Mets.
"It's a tough decision, because do you disrupt what we have now or do you make it better?" he said. "It's a tough decision, and I'm glad I don't have to make it."

"I think that we have a good dynamic in the bullpen, I think we have guys who know how to work together," Papelbon said. "Is Billy Wagner a good pitcher? Would he bring some more depth to our bullpen and make our bullpen better? There's no question about it, but you also have to think about what we have now and what we've been able to accomplish to this point in the season and how good we've been.

"It's not that it shakes the balance; you have that little bit of time of getting used to it, but how are we going to use this guy now, what situation is he going to be best in, who's going to leave our bullpen – it's a multitude of things. It's not just one specific thing."

Asked if Wagner's addition would be welcomed, Papelbon said "no question."

"I don't think in this environment you hold grudges or you get an ego about yourself," Papelbon said. "When a guy comes in, you welcome him with open arms and you move forward and you say, 'Look, you're here for one reason and for one reason only: You're here to help us win a World Series this year.' And if that guy's not on board, then he falls by the wayside, but if he comes in our clubhouse and says, 'I'm on board for this,' then you rock and roll, man."
This all may be moot anyway, as the Red Sox, Mets and Wagner's agent Bean Stringfellow are struggling to come to terms with a deal. Stringfellow wants a guarantee that Boston won't pick up Wagner's 2010 club option and won't offer the reliever salary arbitration. A deal has to be completed by 1 p.m. ET on Tuesday or else Wagner goes back on waivers.
As far as Papelbon's feelings are concerned, he shouldn't be worried about what the front office is doing. He has a right to have an opinion, but he doesn't get paid to scout other team's players and determine whether or not they'll be a good fit for the Sox. Regardless of if Boston's pen has been productive this season, if the front office believes Wagner makes the group better, then they're going to proceed with trying to acquire him – Papelbon (and his opinions) be damned.