Top 10 Heisman Hopefuls Version 1.0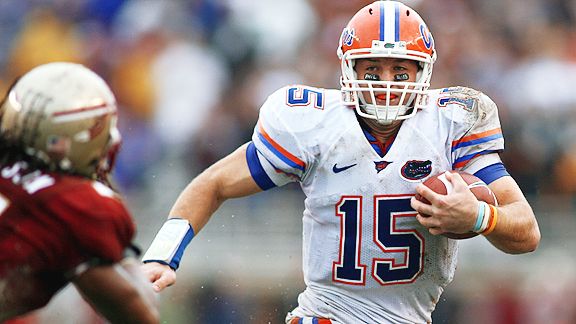 Every couple of weeks during the 2009 season, I'll rank the top 10 Heisman Trophy candidates based on their chances of winning college football's most prestigious award. Players will either rise or fall in the rankings based on their performances throughout the year.
Below is Version 1.0. Obviously with no games being played yet, I'm mostly projecting with this top 10. These types of rankings always stir up a lot of debate, so I encourage readers to tell me which players should be rated higher or lower. I'll update the list after the first week or two of the season.
Without further ado…
1. Tim Tebow, QB, Florida
After Sam Bradford edged Tebow out in last season's Heisman race, some will argue that the Oklahoma QB deserves to be at the top of this ranking. But I'm giving the slight edge to Tebow right now after he absolutely destroyed the competition in the second half of last year. Florida will incorporate the no-huddle into their offense this season, which should only benefit Tebow's style of play and give him even more scoring opportunities than he already had. Outside of Florida having to replace tackles Phil Trautwein and Jason Watkins, there's little reason to believe that Tebow will take a step back in 2009 and considering the Gators are once again national title contenders, he should be the front-runner to win this year's Heisman.
2. Sam Bradford, QB, Oklahoma
After throwing for 4,720 yards and 50 touchdowns last season, I don't doubt that the reigning Heisman winner could be even better in 2009. But the Sooners' offensive line is a major question mark entering this season with the losses of Phil Loadholt, Duke Robinson, Jon Cooper and Brandon Walker. That's a lot of change in one offseason and while OU should light up the scoreboard once again, I could see Bradford taking a backseat to Tebow when the final Heisman results are tallied.
3. Colt McCoy, QB, Texas
McCoy is one of the nation's best and is truly exciting to watch each week. He could once again lead the Longhorns in both passing and rushing yards this season, which only helps his cause for winning the Heisman. But does he have enough pieces around him to get Texas to the national championship? Quan Cosby should emerge as a solid go-to receiver, but the Longhorns would benefit from having Vondrell McGee, Chris Ogbonnaya or Foswhitt Whitaker step up in the running game. Plus, the defense lost some talent with the departures of Marcus Griffin and Frank Okam, so with Tebow and Bradford also in the mix, McCoy's numbers alone might not carry him in the eyes of voters. He may have to get UT into the title game, if not win it, to snatch this year's Heisman.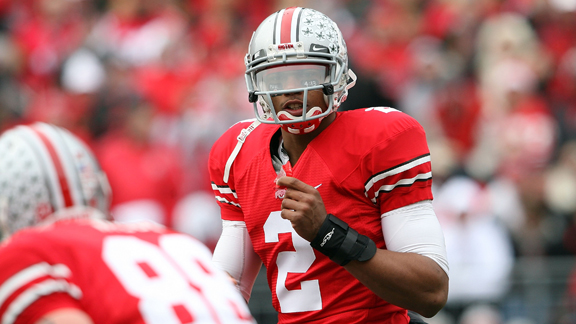 4. Terrelle Pryor, QB, Ohio State
With a year of seasoning under his belt, Pryor should take the next step in 2009. He reportedly has embraced a leadership role for the Buckeyes and given his athletic talent, he could become one of the nation's best players as a sophomore. But the problem in his quest to win the Heisman is that he probably won't post the kind of numbers Tebow, Bradford and McCoy will. So he'll likely have to lead OSU to the national title to win the award. If the Buckeyes do reach the title game, Pryor will have played a huge role, so his chances of winning the Heisman might be tied to whether or not OSU can make a run. As long as he doesn't experience the arm fatigue that hurt him down the stretch last season, Pryor and the Buckeyes have a shot at a tremendous season.
5. Jahvid Best, RB, California
Following his 1,580-yard, 15-touchdown performance last season, Best could become a household name this year. The Cal running back rushed for 8.1 yards per carry last season and was also a factor in the passing game, totaling 27 receptions for 246 yards. He reminds some of the Titans' Chris Johnson in that he's small, but he's got amazing speed and is incredibly dangerous in the open field. The only problem is that the Bears lost offensive linemen Alex Mack and Noris Malele this offseason and that could hinder how successful Best is. He'll put up great numbers, but will they be enough to give him an edge over the other candidates?
6. Jimmy Clausen, QB, Notre Dame
Most of the college football world is focused on whether or not Charlie Weis will hold onto his job this season, which takes away how good Clausen could be this year. Weis is now calling all of the offensive plays for the Irish, which could mean big things for Clausen, who threw for 401 yards and five scores in a 49-21 win over Hawaii in the Hawaii Bowl on Christmas Eve. Given Weis' play calling, ND's favorable schedule, as well as having weapons Golden Tate and Michael Floyd at his disposal in the passing game, Clausen is a sleeper candidate to win this year's Heisman.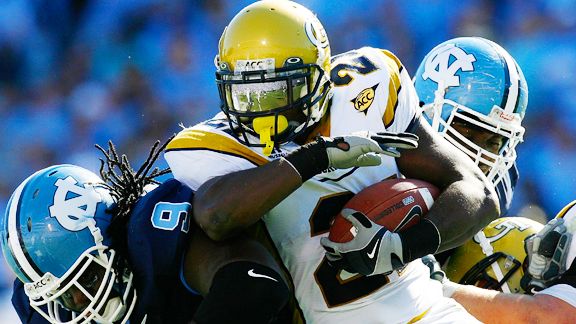 7. Jonathan Dwyer, RB, Georgia Tech
Dwyer was highly productive in Tech's offense last year, rushing for 1,395 yards and 12 touchdowns on 200 carries. And unlike fellow Heisman candidate Evan Royster, he didn't wear down at the end of the season as he rushed for 145, 157, 128 and 144 yards against Florida State, North Carolina, Miami and Georgia, respectively. Those numbers are pretty impressive considering the defenses he faced. It's a long shot, but as long as an offseason hip injury doesn't slow him down, Dwyer could come out of nowhere to claim this year's Heisman.
8. Evan Royster, RB, Penn State
Royster often took a backseat OSU's Chris "Beanie" Wells and MSU's Javon Ringer last year, but he was just as valuable to his team as his fellow Big Ten backs were to theirs. On 191 attempts, he rushed for 1,236 yards and 12 touchdowns, while also catching 17 passes for 155 yards. But after totaling over 100 yards in five of his first eight games, he failed to crack the century mark in any of PSU's final five contests, including their Rose Bowl loss to USC. Was it a product of fatigue or does he struggle against tougher competition? It'll be something to keep an eye on this season.
9. Charles Scott, RB, LSU
The bruising Scott rushed for 1,174 yards and 18 touchdowns last year. Les Miles thinks his running back is set up for a huge season, although his success could be tied to how well Jarrett Lee performs at quarterback. Scott will once again be the backbone of LSU's offense and will be aided by a solid offensive line. But if Lee can't keep opposing defenses honest via the passing game, Scott could have trouble posting Heisman-worthy numbers.
10. Jevan Snead, QB, Ole' Miss
Snead is one of the more intriguing names on this list given that he'll be the leader of what should be a dynamic offense this season. Ole' Miss made some noise last year by beating Florida (on the road), Auburn, LSU and Texas Tech (Cotton Bowl). If the Rebels climb the rankings this season, Snead will be one of the main reasons why and he could certainly post passing numbers similar to Tebow's this year, making him a viable Heisman candidate.
Other players receiving consideration: Zac Robinson, QB, Oklahoma State; Daryll Clark, QB, Penn State; Dez Bryant, WR, Oklahoma State; Max Hall, QB, BYU; Kendall Hunter, RB, Oklahoma State; Stafon Johnson, RB, USC.
Posted in: College Football
Tags: 2009 Heisman Trophy, California Golden Bears, Charles Scott, Colt McCoy, Evan Royster, Florida Gators, Jahvid Best, Jevan Snead, Jimmy Clausen, Jonathan Dwyer, LSU Tigers, Notre Dame Fighting Irish, Ohio State Buckeyes, Oklahoma Sooners, Ole' Miss Rebels, Penn State Nittany Lions, Sam Bradford, Terrelle Pryor, Texas Longhorns, Tim Tebow