Crabtree might not sign until September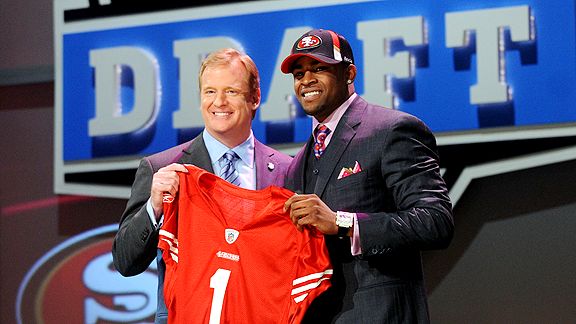 According to a report by the San Jose Mercury News, 49ers receiver Michael Crabtree might not sign a contract until September at the earliest.
The key: (Eugene) Parker doesn't want to budge, well, at least until September, on his demands for a slot-busting deal that would get Crabtree something close to one of the biggest guarantees among the rookie deals of '09, despite his being drafted 10th.

Parker's reputation, for now and in recruiting for future No. 1 picks, is at stake.

The bigger key: The 49ers aren't budging either, well, at least until September, on their insistence that Crabtree's deal remain generally in line with his No. 10 slot and beneath the guarantees of the deals for the players selected ahead of him.

The 49ers' desire to be an unbully-able team is at stake.

The largest key: Crabtree's absence might be jeopardizing his ability to produce right away, but he's not jeopardizing any serious money until the week of Sept. 13–that first game check.
This is ridiculous on the part of Crabtree's agent, who is trying to get his client a better deal than what his draft slot would garner. It doesn't matter that the consensus was that Crabtree should have been taken in the top 5 because he wasn't – he was taken with the 10th overall pick and thus should be paid like a 10th overall pick.
I side with the 49ers in this situation. They shouldn't have to pay a player based on what draft slot his agent felt his client should have been taken in. While it would be incredibly frustrating not to have their first round pick contribute for an entire season, the Niners can't give into Parker's demands because then every agent will try to get his client a more lucrative contract than what the player's draft slot is worth.
The NFL rookie salary structure is already messed up as it is. If Crabtree (again, the No. 10 pick) gets paid like a 2nd or 3rd overall pick, then the situation will provide further proof that the league has to change how its rookie salary structure is set up.