Will Stafford start for Lions in Week 1?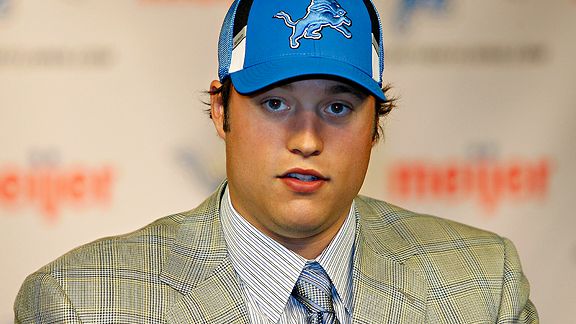 There have been mixed reports the past couple days on whether or not rookie Matthew Stafford will start under center for the Lions in Week 1 of the 2009 season.
ESPN's John Clayton says no chance:
It would take an incredible preseason for rookie Matthew Stafford to beat out Daunte Culpepper in Detroit, but Stafford does have an incredible arm.
Lions beat writer Tom Kowalski says he might:
The reality is Stafford, the first overall pick in the draft, is on the fast track to become the Lions' starting quarterback when the season opens Sept. 13 in New Orleans. So far, Stafford has passed every test with flying colors and cleared every hurdle with plenty of room to spare.
I should note that Kowalski stressed that the Lions are going to proceed with extreme caution with Stafford and that fans should exercise some patience when it comes to the former No. 1 overall pick starting this season. But it is interesting to see two members of the national media come to two different takes on this subject. And before anyone discredits Kowalski (especially when compared to Clayton's take), keep in mind that he spends more time at Allen Park than Clayton does.
Personally, I think the Lions should park Stafford on the sidelines until GM Martin Mayhew is able to build a more talented roster. Wide receiver Calvin Johnson is a stud, running back Kevin Smith is a developing player, and rookie tight end Brandon Pettigrew could emerge as a quality playmaker as well. But Detroit's offensive line is brutal and there's no need for Stafford to get trampled on with Daunte Culpepper willing and waiting to serve as a beating post for opposing defenders. Plus, the defense might show a little bit of improvement this year with the additions of Larry Foote, Phillip Buchanon, Grady Jackson and Louis Delmas, but chances are the Lions are still going to be playing from behind a lot this season, which is never a good situation for a rookie quarterback trying to learn on the job.
Detroit should let Culpepper play rag doll this season and give Mayhew at least one more offseason to acquire more talent. Then maybe next year Stafford can become the full-time starter.