The Top 10 Head Scratchers of the 2009 NBA Offseason
The NBA offseason is by no means over, but the lion's share is behind us, so it's a good time to take a look back at a few of the…um…let's say "questionable" decisions of the summer. Here are my Top 10, in no particular order. Feel free to add to the list if I missed something.
1. Trevor Ariza plays spiteful hardball…and loses.
Let's get this straight — the Lakers offered Ariza the same deal he was getting on the open market, and he refused since the Lakers could have offered more, but didn't? Um, okay. David Lee (the agent, not the Knicks forward) says that Ariza wanted to go somewhere where he'd be "appreciated." Lee overestimated the market for his client, and the Lakers quickly moved on to acquire Ron Artest. Now instead of playing for the world champs, Ariza is stuck in Houston on a team that faces a very uncertain future. Lee now says that Ariza turned down a deal worth $9 million more, but still picked Houston. It sounds to me like he's just trying to save face.
2. Grizzlies acquire Zach Randolph.
Once the Clippers traded for Randolph (and his toxic contract) last season, I thought the bar for NBA general managers had hit a new low thanks to Mike Dunleavy and his wily ways. But Dunleavy proved that he wasn't the dumbest GM in the league when he convinced the Memphis Grizzlies to take on the final two years Randolph's contract at the tune of $33.3 million. Remember that $25 million or so of cap space that the Grizzlies were going to have next summer? Yeah, that's down to about $8 million with this brilliant move. Just when it looked like Chris Wallace was going to rehab his image after the Pau Gasol trade — Marc Gasol panning out, trading for O.J. Mayo — he goes and does this. Sigh.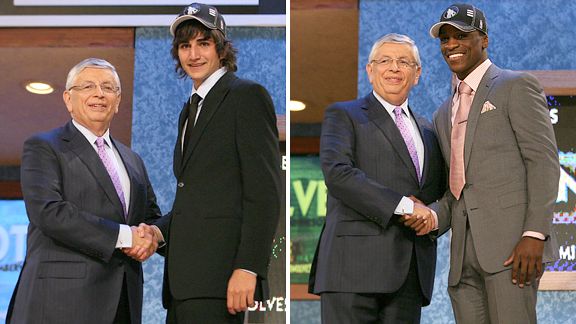 3. T-Wolves draft both Ricky Rubio and Jonny Flynn with no (good) plan in place.
When GM David Kahn drafted two point guards with back to back picks, everyone around the league thought that he had a trade in place. Not so, according to Kahn, who likes the idea of playing two smallish, ball-dominating guards in the same backcourt. Now Rubio is threatening to stay in Europe for another year or two, and Kahn is seemingly happy to wait until Rubio finally makes his way to the NBA to see if his unorthodox plan (and that's being kind) will ultimately work.
4. The Magic trade for Vince Carter.
Let's see, your team just lost in the Finals — losing two games in overtime — and your main ballhandler is a free agent. What do you do? It's tough to create the kind of chemistry that gets a team to the Finals, so you re-sign him, right? Not the Orlando Magic, who balked at Hedo Turkoglu's $10 million-per-season asking price and instead pulled the trigger on a trade for Vince Carter. So essentially they gave up their most consistent player (Turkoglu) and a budding star (Courtney Lee) for the 32-year-old Carter. A healthy Jameer Nelson (along with a savvy mid-level signing) may have been enough to put this Magic team over the top, but now we'll never know.
5. Pistons sign Ben Gordon for $11 million per season.
Look, I like Ben Gordon…for about $8 million per season. The guy is a great scorer, but he has sketchy shot selection at times and is a big liability on defense. For years, the Bulls didn't even deem him good enough to start, but the Pistons are going to throw $11 million per year at him? And it turns out that they were bidding against themselves, as the Bulls didn't even bother to make an offer before Gordon signed with Detroit.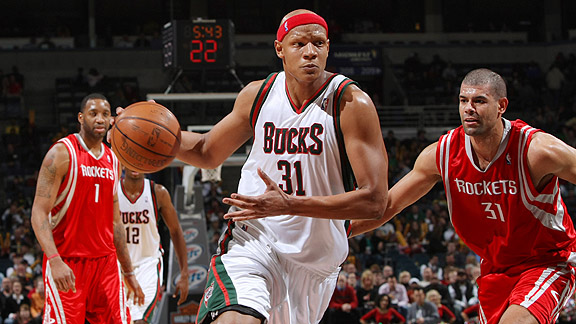 6. No one makes an offer (that we know of) to Ramon Sessions.
7. The Bucks don't extend one-year offer to Charlie Villanueva and lose him without compensation.
8. The Bucks give away Richard Jefferson.
Let's tackle my beloved Bucks all at once. First, they give away a former All-Star Jefferson in a salary dump. Then, they elect not to take the option to make Villanueva a restricted free agent, which allows the Pistons to sign him away without having to give the Bucks anything in return. I know why the Bucks made these moves — they don't feel that this roster is worthy of being in luxury tax territory and I don't disagree, but small market teams can't give away assets for nothing. Yeah, maybe signing Villanueva for the final year of his rookie contract would have cost them $4 million or more, but they could have traded him for a young prospect or maybe a draft pick. And why didn't they get a first rounder out of the Spurs for Jefferson? Small market teams have a tough time signing stars, so they have to build through the draft and via trade. Giving away the rights to a $7 million-per-season player (which is what the Pistons paid Villanueva) is not the way to get better. Lastly, why hasn't anyone made RFA Ramon Sessions an offer? The Bucks have proven that they are trying to cut salary and they picked up Brandon Jennings in the draft. Does anyone really think that they'd match a significant ($4-$5 million per year) offer for Sessions? He had the 13th-highest PER amongst all point guards, and the 5th-highest amongst all point guards under the age of 26. Moreover, his +/- numbers are the best on the team for anyone who played more than 1200 minutes. Why hasn't a team in need of point guard help (Portland?) jumped on this guy?
9. The Suns give away Shaquille O'Neal.
Regular readers know that I'm not fond of the job Steve Kerr is doing in Phoenix. First, he trades Rudy Fernandez away for cash. Then he ruins one of the most exciting teams in NBA history by trading Shawn Marion for Shaquille O'Neal. Now he seemingly admits that the Shaq trade was all for naught by giving him away in a salary dump. Shaq made the Third Team All-NBA last year, and Kerr traded him for Ben Wallace and Sasha Pavlovic's expiring contracts. Geesh.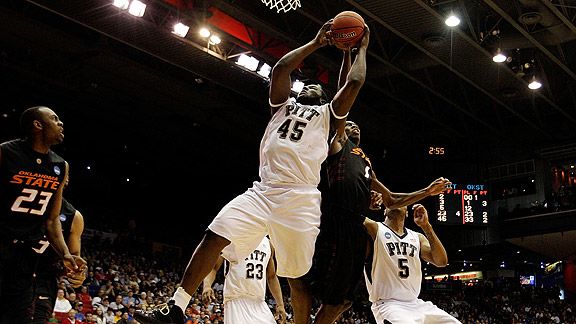 10. Six teams pass on DeJuan Blair IN THE SECOND ROUND!
When I first heard that there were concerns about Blair's knees, I thought he might fall into the bottom third of the first round. Even if the guy is missing ligaments in his knees, he was still one of the best rebounders in all of college basketball last season and he ate up #2 pick Hasheem Thabeet in Connecticut. When Blair fell into the second round I was stunned as the Kings, Wizards, Blazers, Nuggets, Pistons and Grizzlies all passed on Blair. A second round pick doesn't require the same kind of financial commitment as a first round pick, so there's very little downside if the guy doesn't pan out. Blair fell and fell, right into the inviting arms of the Spurs, who will be lucky to have him on the roster for the foreseeable future.
Posted in: NBA, NBA Draft, News, Rumors & Gossip
Tags: 2009 NBA Draft, 2009 NBA free agency, 2009 NBA free agents, Ben Gordon, Ben Gordon contract, Charlie Villanueva, Charlie Villanueva contract, Chicago Bulls, Chris Wallace, David Kahn, DeJuan Blair draft, Detroit Pistons, Hedo Turkoglu, Hedo Turkoglu contract, Houston Rockets, John Paulsen, Jonny Flynn, Jonny Flynn draft, Los Angeles Clippers, Los Angeles Lakers, Memphis Grizzlies, Mike Dunleavy, Milwaukee Bucks, Minnesota Timberwolves, NBA Draft, NBA free agents, New Jersey Nets, Orlando Magic, Ramon Sessions, Richard Jefferson, Ricky Rubio, Ricky Rubio draft, Ron Artest, San Antonio Spurs, Shaq to Cleveland, Trevor Ariza, Trevor Ariza contract, Vince Carter, Zach Randolph