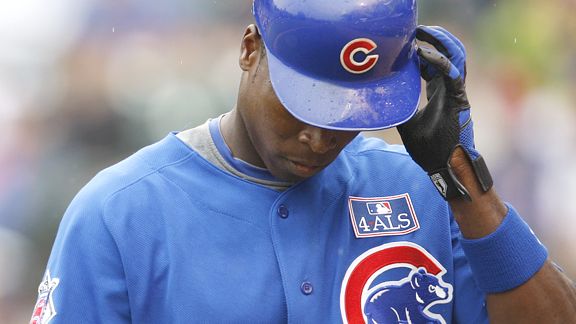 Cubs left fielder (if you can even call him that with the nightly circus routine he usually puts on out there) Alfonso Soriano is hopping mad with manager Lou Piniella after the skipper sat him for the third time in eight in eight games Wednesday night.
"That's why I'm mad," Soriano said. "If he had told me yesterday, then I wouldn't come today ready to play."

Piniella typically gives Soriano a heads-up when he will get a day off but declined to do so this time.

"That's a surprise to me today," Soriano said. "I think he could have said to me last night, 'OK, take a day off,' especially because [Thursday] is an off day. I'd be like, 'OK, I'll take the two [days].' But I like to know before I come here."

Soriano, hitting .182 over his last 40 games, said his knee pain isn't enough to prevent him from playing.

"I can play," he said. "If I can play, it's not bothering me. It bothers me if I'm not playing though."

Asked if he would talk to Piniella about his complaint, Soriano simply replied: "No."
Considering he's hitting a buck eighty two over his last 40 games and is a liability defensively, Soriano doesn't have much of a compliant here. And I found it laughable when he suggested that he wouldn't come ready to play if he knew he was going to sit.
Hey Alfonso, the Cubs (over)pay you millions of dollars every year. How about showing up ready to play everyday, regardless of whether or not you're in the starting lineup? Is that too much to ask?
Piniella is really working with a couple of clowns on this team. He must go home every night and punch a fresh hole through the wall of his garage.