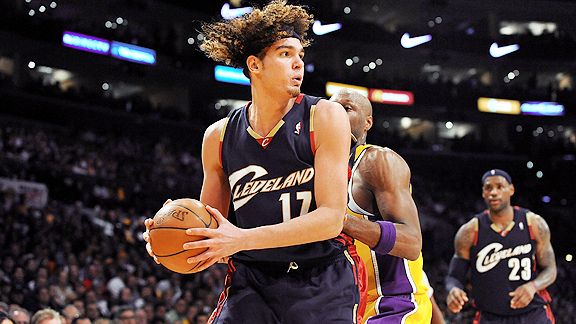 It looks like Anderson Varejao is staying in Cleveland.
Varejao's contract is worth $42.5 million over the six years, and the final year is only partially guaranteed. Incentives could push the total amount to $50 million.
Varejao's agent, Dan Fegan, says that the Cavs turned down a few sign-and-trade offers.
"I'm excited about it," Fegan said. "I will tell you several teams made sign-and trade proposals where Anderson could have made $10 million or $11 million a year. Some very good players would have been involved.

"He wanted to stay in Cleveland. There were also a number of teams with cap space, like Oklahoma City and Portland, who were interested."
I estimated Varejao's value to be somewhere in the $5.5-$6.5 million per year range, so without the incentives, this contract came in a little bit above that. The thing I worry about from the Cavs' perspective is the fact that it's going to be tough to play Varejao and Shaquille O'Neal together because neither guy has the ability to hit an open 15-foot jumper. This will allow the defense to sag into the lane which will help to close off LeBron's drives.
In addition, the Cavs have a verbal agreement with Anthony Parker (formerly of the Raptors) and have their sights set on Channing Frye.
The Cavs have also agreed to terms with Toronto free agent Anthony Parker. The final figures of the deal are not set, but he will receive a portion of the $5.8 mid-level exception for either two or three years.

The Cavs hope to sign Channing Frye with the remainder of their mid-level exception.
Shaq is clearly a short-term fix, but with the Varejao, Parker and possible Frye signings, and assuming the salary cap falls to somewhere in the $50 million to $53 million range, the Cavs aren't going to have the cap space necessary next summer to woo a big-name free agent like Chris Bosh or Amare Stoudemire. They may still be able to work out a sign-and-trade, but with roughly $30 million already spoken for heading into 2010, the Cavs won't have the cap space to make two maximum contract offers.
Cleveland is clearly treating this as a "must-win" season, but what happens if they flame out in the playoffs again?