Judge blocks Williams Wall suspension, but will it hurt Vikings in the end?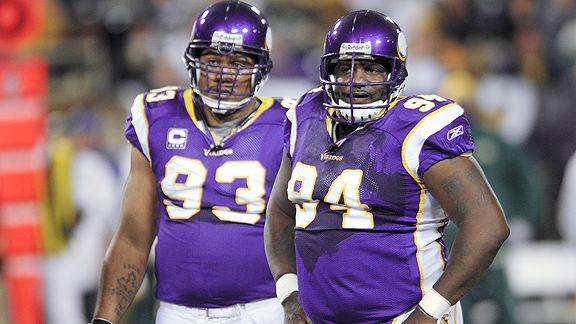 The AP is reporting that a district judge has granted Vikings' defensive tackles Pat and Kevin Williams a block against their four-game suspensions for using a banned substance. The "Williams Wall" now has a temporary restraining order against the NFL and the judge has also scheduled a July 22 hearing to consider whether or not he'll put a hold on state court proceedings.
This could be construed as either good or a bad for the Vikings. Sure, Minnesota could have the Williams Wall for Week 1 against the Browns, but what happens if the NFL wins this battle and suspends the pair during a critical point during the season?
If the Williams Wall is truly innocent or victims are victims in some way, then nobody should blame them for fighting their suspensions. But the NFL isn't going to give up here, especially considering it doesn't want to take on an image that its players are using banned substances to help them compete on the field (a la Major League Baseball).
Last year, the Williams Wall avoided a four-game suspension during a critical stretch in the season and they helped the Vikings make the playoffs. If they serve their four game suspension over the course of the first four weeks of this season, they'll miss games against the Browns, 49ers, Lions and Packers. Granted, no win is guaranteed in the NFL, but the Vikings certainly have a much easier schedule at the start of the year than the middle and end.
Again, if the Williams Wall is innocent, then they shouldn't back down. But if the two think that they're going to sneak one past the NFL with this judge's help, then they probably have another thing coming and could wind up missing crucial games during the middle or end of the season. Everybody (i.e. the Williams Wall and the Vikings) seems to be playing with fire here.