Report: Roy Halladay on the block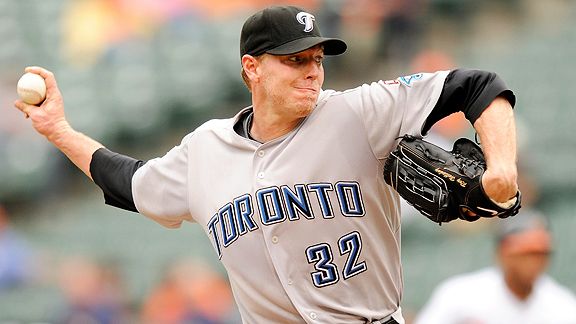 According to a report by FOXSports.com, the Blue Jays are listening to offers for ace Roy Halladay.
"We have to see what's out there," Blue Jays general manager J.P. Ricciardi says. "I'm not saying we're going to shop him. But if something makes sense, we at least have to listen. We're (leaning) more toward listening than we've ever been."

Ricciardi first made similar comments to CBS Sportsline, prompting immediate skepticism from one rival executive, who speculated that Halladay was either hurt or that the Jays were being forced to dump the pitcher's salary.

Actually, the Jays' motives are far less sinister.

They're falling out of contention. They probably cannot afford to keep Halladay when they owe outfielders Vernon Wells and Alex Rios approximately $160 million combined from 2010 to '14. And they know that Halladay would prefer to pitch for a winner anyway when he becomes a free agent after next season.

Oh, and one other thing: The trade market is barren of quality starting pitchers, much less one who is a true difference-maker, one of the top five starters in the game.
You can't blame Ricciardi for at least kicking the tires on a potential deal. As the article notes, Halladay becomes a free agent in 2011 and will probably exit stage left anyway – so why not try to get a king's ransom for him now?
FOX speculates that the Yankees, Red Sox, Phillies, Dodgers, Cubs, White Sox, Brewers, Mets, Rangers and Angels could all be in the market for Halladay, but it might be hard for New York or Boston to acquire the ace since they're both in the AL East with Toronto. The Cubs might also not have enough quality farm pieces to acquire Halladay.
If the Rangers weren't such a cheap organization, I think they would make the most sense. They have one of the best farm systems in all of baseball and are a couple of starters away from possibly gaining the edge on the Halos in the AL West. But owner Tom Hicks has never had the organization's best interest at heart, would probably not want to pay Halladay's salary for the next year and a half, and he's in the midst of trying to sell the team. Still, maybe current president Nolan Ryan could convince Hicks and GM Jon Daniels to make a move.
The Dodgers are also intriguing because they're already a World Series contender as is, but Halladay would essentially put them over the top and allow them to go toe to toe with anyone in either league. But would they be willing to give up an arm like Chad Billingsley or Clayton Kershaw as part of a package to acquire Halladay? That's doubtful.
Either way, let the Halladay trade speculation begin.