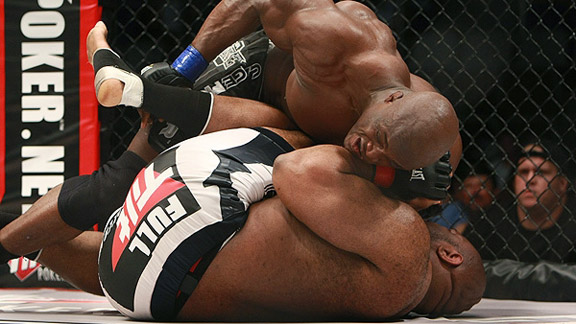 Here's a weekly rundown of MMA content from Ben Goldstein of CagePotato.com:
– Bobby Lashley made Bob Sapp tap twice and Gilbert Yvel KO'd Pedro Rizzo at last week's 'Ultimate Chaos' event.
– Nick Diaz and Joe Riggs may be settling an old rivalry next month. But will anybody see it?
– With UFC 100 coming up next Saturday, we counted down the 10 greatest UFC events of all time.
– Nobody seems to think Michael Bisping has a chance against Dan Henderson in their UFC 100 fight. Though if he really plans on out-wrestling Hendo, maybe he really is doomed.
– Indiana became the 39th U.S. state to begin regulating MMA. Last state to legalize the sport is a rotten egg!
– Rampage Jackson says he'll be knocking out Rashad Evans in his hometown of Memphis in December.
– Tito Ortiz fooled us for the last time.
– We chatted with Jon Fitch about the stupidity of trash-talk and the challenges of fighting a man in a dress.
Comments Off on Saturday MMA Review: 7/4

Posted in: Mixed Martial Arts
Tags: Bob Sapp, Bobby Lashley, Dan Henderson, Gilbert Yvel, Joe Riggs, Jon Fitch, Kimbo Slice, Michael Bisping, MMA, MMA rumors, Nick Diaz, Pedro Rizzo, Rampage Jackson, Rashad Evans, Regulating MMA, Tito Ortiz, UFC, UFC rumors, Ultimate Chaos