Turkoglu agrees to terms with the Blazers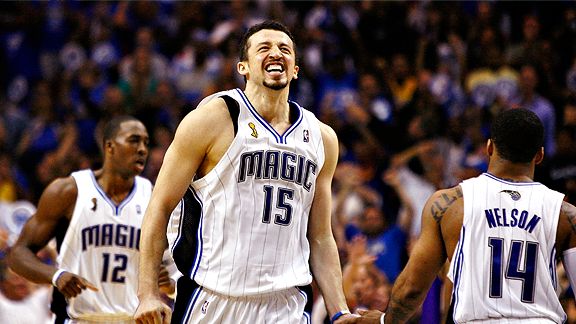 Although a verbal commitment may be announced sooner, the terms of the contract cannot be finalized until Wednesday when the NBA informs teams what the 2009-10 salary cap will be.

The Orlando Magic's recent trade for Vince Carter, who has a large salary and plays small forward — which is Turkoglu's position — made it highly unlikely Turkoglu would be back in Orlando.

The Toronto Raptors expressed interest in Turkoglu, but were constrained by their other efforts to keep Shawn Marion and Carlos Delfino.

Turkoglu, a 6-10 forward from Turkey who played a prominent role in the Magic's recent trip to the NBA Finals, had been looking for a five-year deal in the neighborhood of $50 million.
Five years and $50 million is a lot for Turkoglu, who is already 30 years-old and isn't particularly efficient statistically. But his game is a pretty good fit for the Blazers, who want to space the court for Brandon Roy. Turkoglu is a good enough shooter to do that, plus he can handle the ball really well for a small forward, which help to take the pressure off of Roy. In fact, with Roy at the two and Turkoglu at the three, there's enough ball handling there that the team doesn't have to play with a traditional point guard. This may open up minutes for Rudy Fernandez, who was reportedly upset about the Blazers' interest in Turkoglu.
The other thing to remember is that the Blazers' cap space wasn't going to last. They have to sign both Roy and LaMarcus Aldridge to big extensions as soon as this summer and Greg Oden will be eligible for an extension next summer. It was sort of a "use it or lose" it scenario for the Blazers, and owner Paul Allen has never been afraid to spend. They added a versatile, experienced small forward who proved in the playoffs that he knows how to win. $10 million per season is a lot for Turkoglu, but his game should age pretty well, so at worst the Blazers should get quality play for the first three or four years of the deal.
What's lost in all of this is the fact that Orlando will not be bringing back the core that went to the Finals this year. Chemistry is a rare quality and the Magic may rue the day that they brought in Vince Carter and waved goodbye to Turkoglu. After all, there were two overtime games in the first four, and the Lakers won both. Had those games gone the other way, the Magic would have led the series 3-1 with Game 5 at home to clinch the title. They didn't need to tinker this much, and GM Otis Smith may eventually regret it.
Posted in: NBA, NBA Finals, News, Rumors & Gossip
Tags: 2009 NBA free agency, 2009 NBA free agency rumors, 2009 NBA free agents, Brandon Roy, Hedo Turkoglu, Hedo Turkoglu contract, LaMarcus Aldridge, NBA free agency, NBA free agency rumors, NBA rumors, Orlando Magic, Otis Smith, Vince Carter