NBA Free Agency Rumors: Kidd, Turk, Gordon and much more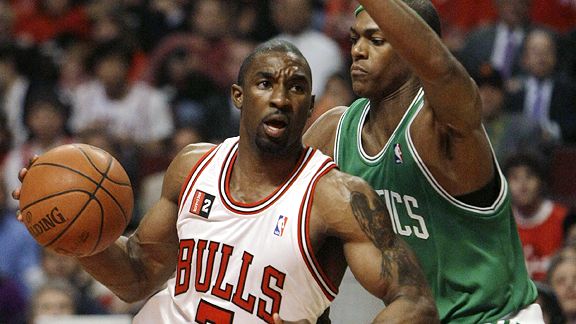 Pistons not willing to pony up for Boozer?
The Pistons would love to sign Carlos Boozer should he decide today to opt out of the final year of his contract with the Jazz and become a free agent.

However, if Boozer opts out, he would leave $12.6 million on the table in Utah. Thus, there is a good chance Boozer, as has been widely speculated, would look to start his next contract at $14 million or $15 million.

If that is the case, the Pistons most likely would walk away.
Just because a guy asks for a contract starting at $14-$15 million doesn't mean that the Pistons have to give it to him. If Boozer opts out, the Pistons are his most likely landing spot, so they set the market, not him. If he wants an unreasonable deal, they shouldn't walk away, they should make an offer and give him some time to find a better one. Chances are that he won't, and he'll end up taking Detroit's deal.
Assuming Boozer does not dramatically reduce his asking price, the Pistons would go after Bucks forward Charlie Villanueva.

Villanueva will turn 25 in August and is coming off his best season. He averaged 16.2 points and 6.7 rebounds for the Bucks.

The Pistons could conceivably sign Gordon and Villanueva and still have money left over to pursue re-signing Antonio McDyess.
I estimate Gordon's value to be about $9 million, though he has turned down bigger offers from the Bulls in the past. Villanueva will probably get lots of MLE offers, so the Pistons would likely have to trump those to convince him to play in Detroit instead of Cleveland (or for another contender). So if Detroit signs both, expect them to pay at least $15.5-$16.0 million combined. That doesn't leave a lot of space for McDyess.
Jason Kidd is meeting with the Knicks. According to the article if they don't get Kidd, they may go after Ramon Sessions.
Kidd doesn't seem like a very good fit for a team in the beginning stages of a rebuilding process, though the Knicks hope to accelerate that process by signing one or two big-name free agents next summer. I'm sure Kidd is interested in the prospects of being a part of that team, but it's unclear how much of a role money will play in his decision. Unless they work out a sign-and-trade with the Mavs, the Knicks can only offer Kidd the mid-level exception (~$5.8 million).
As for Sessions, I think the Bucks are positioned to match any offer up to the mid-level, and I think that's the top end of his market right now. Milwaukee would be wise to lock him up before next summer's free-for-all.
Hedo Turkoglu turned down a four-year extension worth $35 million after the Finals.
"It's going to be hard, but it's not out of the question, and it's certainly not out of our focus," Vander Weide said of re-signing Turkoglu. "We didn't do (the Carter trade) thinking automatically that Turk won't be here. What you try to do in this league is collect assets, but occasionally you have to move those assets for something that's a better fit. We still see Turk as an asset, and we'll try to get something done, but we won't know for a week or so what kind of deal we're up against."
Four years is longer than I would want to go, but I think he'll eventually regret passing that deal up. Stan Van Gundy and the Magic gave him the opportunity to thrive and it's shortsighted to pass up the chance to play on a championship-caliber club for a few extra million. The Blazers, Raptors and Kings are said to be interested, but only Portland is a serious championship contender.
Meanwhile, the Magic may very well be ruining a good thing buy acquiring Carter and letting Turkoglu walk. It's not wise to drastically alter the face of a team that just went to the NBA Finals. And it's not like the Lakers revealed some glaring deficiencies in the Magic roster. Sure, L.A. won in five games, but two of those wins were overtime games that could have gone either way. A healthy Jameer Nelson might have made the difference.
Anderson Varejao is going to test the market.
The Cavs can go over the salary cap to sign Varejao, but he's free to sign with any team. The Cavs will not be able to match any offer he gets.
Varejao was slated to make around $6.2 million next season, so there isn't much risk here. Someone will give him a multi-year mid-level deal, so he should get the security of guaranteed money. There's no guarantee that the Cavs will bring him back because it will be tough to play both he and Shaq at the same time.
Trevor Ariza's agent, David Lee, says that the Lakers won't get a hometown discount.
"It's a question of how committed the Lakers are to competing again," Lee said. "If everyone else stood still, you could see what happens when a piece is missing, but the reality is teams out there are positioning themselves to be competitive. When other teams are getting better, you can't afford to rest on your laurels."

"If you're doing a one-year or two-year deal, you could have all sorts of conversations about the Artests or the Turkoglus," Lee said, "but if you're talking a five-year deal, Trevor's going to be 28 and those guys are going to be 35."
So if some other team offers Ariza a deal averaging $6.5 million per year and the Lakers make an offer that averages $6.3 million, Ariza won't stay in L.A.? If he does, that would be the definition of a hometown discount. I think most players would agree to some sort of a discount to stay put (especially on a championship team in sunny Los Angeles), it's just a matter of how much.
I think Ariza's floor is the mid-level.
Andre Miller wants $30 million?
One source has said Miller will be seeking around $10 million a year, which is what he earned last season, and that he will more than likely desire a minimum contract length of three years.

Stefanski said a sign-and-trade was "a possibility."

In layman's terms: The Sixers are over the salary cap. If they do not re-sign Miller, they cannot offer his salary to another player on the free-agent market. Per NBA rules, the Sixers are allowed to re-sign their own guy.
The Blazers are supposedly interested, though I think $10 million per season is pretty steep for a 33 year-old, especially for a three-year deal. I estimated his value to be $6-$7 million per season, but I could see him signing for a bit more. My guess is that a lot of these guys are going to have to lower expectations once free agency begins.
Brandon Bass is hoping for the mid-level.
Bass will be seeking the mid-level exception. Because he has been with the Mavericks for two seasons, they can offer him any annual salary up to the exception without actually using their exception.

The mid-level is expected to be between $5 million and $5.5 million.
That seems fair, if a bit high. I pegged his value somewhere in the $4.5-$5.5 million per year range. I think Bass is a starter-quality power forward, and at 24, he has some upside.
Posted in: NBA, News, Rumors & Gossip
Tags: 2009 NBA free agency, 2009 NBA free agency rumors, 2009 NBA free agents, Andre Miller, Ben Gordon, Carlos Boozer, Charlie Villanueva, Hedo Turkoglu, Jason Kidd, NBA free agency, NBA free agency rumors, NBA free agents, NBA rumors, Ramon Sessions, Trevor Ariza