Pirates send Morgan to Nats in four-player trade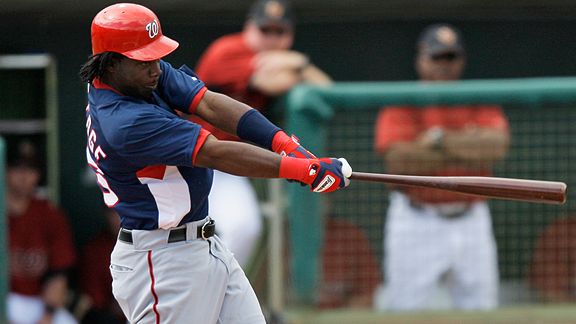 According to the Pittsburgh Post-Gazette, the Pirates have agreed to trade speedy outfielder Nyjer Morgan and pitcher Sean Burnett to the Nationals for outfielder Lastings Milledge and right-hander Joel Hanrahan.
While Burnett and Hanrahan are decent relievers, the two outfielders will determine which club gets the better of this deal in the end. Morgan has been a pleasant surprise this year for Pittsburgh (he's batting .277 with 39 runs scored and 18 stolen bases), but he turns 30 in a couple of days and doesn't have a ton of upside.
At just 24-years old, Milledge does have long-term upside, but he's yet to fully cash in on his raw talent. He's a better all-around athlete than Morgan is, but he underwent surgery to repair a broken finger in mid-May and continues to be sidelined because of it. He has top-of-the-order potential, but he's been slowed by injuries and when given the opportunity to be the Nats' leadoff hitter at the start of the season, he stumbled to a .167 average and had no extra base hits in 24 at bats. He was optioned to Triple-A Syracuse on April 15 and hasn't seen major league action since.
What's interesting is that even though they're currently 17.5 games back in the NL East and have zero hope of competing this season, Washington still decided to trade for a player in Morgan who doesn't have as much long-term upside as Milledge. That should tell you that the club didn't think too highly of Milledge's potential and decided to get a productive player for him while they still could. Milledge is worth taking a flier on if you're the Pirates, however, because he could still wind up developing in the future.