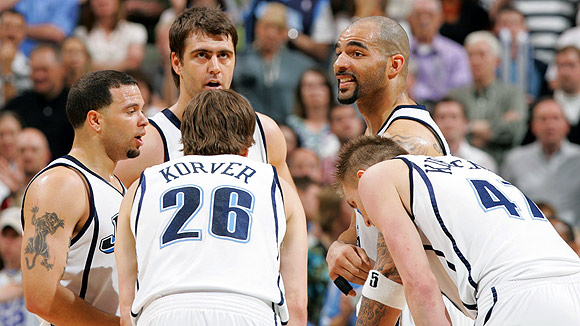 Tuesday Afternoon Update: Mehmet Okur is going to play the final year of his contract as well.
Earlier today, we discussed the possibility of Carlos Boozer playing out the final year of his contract, and that's exactly what he decided to do.
Boozer's decision was a reversal from his December comments to an ESPN.com reporter that he was planning to opt out and would get a raise regardless. The Jazz, however, long questioned if the market that Boozer believed existed was more fantasy than reality.
In the end, it sounds as if Boozer considered his prospects and decided to take the sure $12.7 million instead of rolling the dice on the open market. If he is able to play at a high level and without injury, he stands to significantly improve his value heading into the summer of 2010. There are so many teams cutting salary in preparation for that summer's free agent frenzy, so if he can stay healthy, he definitely stands to gain. However, by playing out the last year of this deal, he is forgoing the security of the long-term contract that he otherwise would have signed this summer. If he were to suffer a career-ending injury next season, he'd be leaving perhaps $42 million on the table.
How does this affect the team's payroll?
The Jazz also are treading in dangerous territory in regard to the luxury tax. Boozer's return gives them approximately $64.5 million in salary commitments to 10 players for the upcoming season.

That's before making decisions about re-signing Okur – should he opt out – and Millsap. The NBA's luxury-tax threshold is expected to be around $70 million and the Jazz would have to carry at least a league-minimum 13 players on their roster.

"It could be [a problem]," Miller said, "but it's like I said before: If we need to go into the luxury tax to protect our players and protect our team, keep it intact, we'd have to take a look at that."
If Okur opts out, the Jazz projected payroll would be around $63 million, leaving some (but not a lot) of flexibility to sign Paul Millsap. If Okur plays out the final year of his deal, Utah will have to pay a steep luxury tax to re-sign Millsap. Essentially, if a franchise is over the luxury tax threshold, they have to pay a dollar-for-dollar tax. Simply stated, now that Boozer has opted in, if Okur opts in, it's going to make it tougher for the Jazz to retain Millsap.
I'm sure there are a few teams out there licking their chops at the prospect of signing Millsap.