Boozer may stay with the Jazz for another season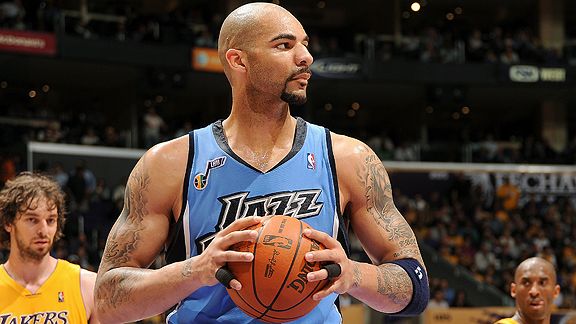 For a time, it seemed like it was inevitable that Carlos Boozer would opt out (or not opt in, in this case) and hit the open market as an unrestricted free agent. But the economic climate has changed and the market for his services does not appear to be as strong as it was once thought to be. Boozer might very well play another year in Utah.
Boozer has until 5 p.m. on Tuesday to decide whether to exercise a player option on his contract with the Utah Jazz. The contract is set to pay Boozer $12.7 million next season if he opts in. Could he make more than that on the open market?

For months it was assumed that Boozer would land in Detroit. But last week Pistons sources told ESPN.com that Boozer wasn't the team's highest priority and that if they pursued him, they weren't willing to give him the $13-15 million a year he's looking for.

The Jazz aren't in a great position to re-sign him either. Utah has to sign another free agent, Paul Millsap, and possibly a second, Mehmet Okur, if he opts out of his contract. Okur's agent told The Associated Press on Monday that his client was leaning toward opting out. Those two contracts would put the Jazz near the luxury tax threshold. It's unlikely they would go over to re-sign Boozer.

"As soon as it looked like the Pistons were the only team with the money and desire to pay him," one Eastern Conference GM said, "I knew Boozer would be changing his mind. Unless I knew for sure that the Pistons would pay me big bucks, you just can't make that gamble. I fully expect him to be back with the Jazz next year."
Earlier this week, I estimated Boozer's market value at about $12-$13 million per season. I think that if he does opt out, he'd eventually get that kind of a contract because a team willing to spend would work out a sign-and-trade to acquire him. The problem there is that Utah would have to take on near-equal salary for the first year and that would potentially push them over the luxury tax threshold (assuming Mehmet Okur returns and the Jazz sign Paul Millsap to a lucrative deal).
Assuming the Pistons don't step up with a deal averaging $10-$11 million, Boozer's absolute worst case is signing a one-year mid-level deal (~$5.8 million), which would cost him about $7 million this season. If he plays another year in Utah, he'll have the opportunity to prove that he can stay healthy and would join the vaunted free agent class of 2010, where there will be a greater market for his services. Teams are saving up for that summer, so Boozer would be a nice consolation prize for those teams hoping to add Chis Bosh or Amare Stoudemire.
The downside of staying in Utah for another season is the lack of the security. Is it better to sign a five-year deal at a discount (say, $11 million per season) and have a guaranteed $55 million or play another year in Utah and risk a career-ending injury for the prospect of signing for an extra $10-$15 million in 2010? There's a saying — a bird in the hand is worth two in the bush.
This is the quandary that Boozer is in today. It's a tough call.
His decision is due in a few hours.