NBA Free Agency Rumors: Turk, Charlie V, Millsap and more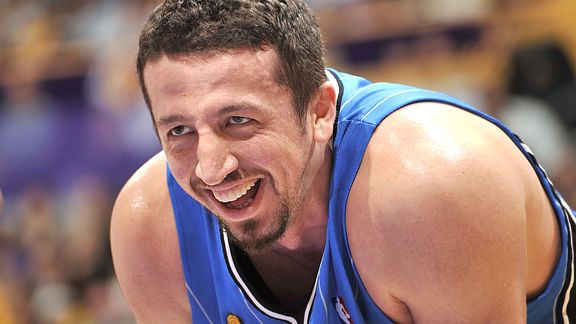 Pistons, Blazers interested in Hedo Turkoglu.
The Oregonian reports Blazers general manager Kevin Pritchard and assistant general manager Tom Penn called agent Lon Babby last night to begin the courtship of Hedo Turkoglu.
With Carlos Boozer out of the picture, an NBA source tells the Chicago Sun-Times that Turkoglu is now the Pistons' first choice in free agency.
While the Blazers' interest has long been rumored, Detroit's interest is a little surprising. They already have a very good small forward on the roster in Tayshaun Prince, so unless they're planning to play Turkoglu at the four, someone is going to lose some minutes. Of the two teams, the Pistons have more cap space, so if they want him, they can get him. (And what about Ben Gordon?)
Charlie V ahead of Turkoglu on the Pistons' wishlist?
Chicago's Ben Gordon remains the backcourt player deeply coveted by the Pistons, but the prospect of a Gordon-and-Villanueva combo likely would be slightly cheaper than trying to sign Gordon and Turkoglu with Detroit's nearly $19 million in projected salary-cap space.
The Pistons may also be interested in Paul Millsap, but anytime a team signs a restricted free agent to an offer sheet, that money is tied up for a week while his current team decides to match. That makes signing an RFA a dicey prospect.
I wonder if the Bucks are regretting letting Villanueva given the amount of interest he's generating from their division rivals (Detroit and Cleveland).
Knicks not offering David Lee what he wants?
A team source claims the Knicks will offer David Lee a four-year deal worth $32M, reports the New York Daily News.

Lee and his agent are asking for $10M per season.
Donnie Walsh is no dummy. Lee is an energy player, and those types of bigs don't generally get the monster contracts that their back-to-the-basket counterparts do. Walsh knows that most players, given the choice, will want to play in New York, so he's essentially daring another team to come with a strong enough offer to pry Lee away.
The Rockets are interested in Marcin Gortat.
Rockets.com reports Houston wants Marcin Gortat so bad that Rockets' general manager Daryl Morey rang the door bell at Gortat's Orlando-area home at 12:01 am this morning.
I like Morey's style. While showing up at the house at midnight is a little stalker-ish, I think Gortat will let it slide. Morey even asked Rockets fans for help in recruiting Gortat by setting up an email account for them to send messages to show their support for the signing.
With Yao Ming out indefinitely, it makes sense that the Rockets would try to lock up another center. The Rockets are over the cap, so they can only offer a mid-level deal unless they can swing a sign-and-trade with Orlando.
Jazz not deterred — first to contact Paul Millsap.
General manager Kevin O'Connor called at 10 p.m., according to Millsap's agent, DeAngelo Simmons.

Simmons called O'Connor a "class act" for the gesture, adding, "I think it was great that they called and expressed their interest. That's good on their part."

Simmons is seeking a contract in the $10M a year range for Millsap.
With Carlos Boozer and Mehmet Okur making the (semi-)surprising decisions to play another season in Utah, the Jazz are going to have to go well over the luxury tax threshold to re-sign Millsap. Utah is a small market team who usually has to overpay to convince free agents to come to (or to stay in) Salt Lake City. Already having Deron Williams locked up is a big bonus.
It will be interesting to see where Millsap lands now that Boozer and Okur are off the market.
Andre Miller wants to get paid.
"We feel, from his body of work, Philadelphia should obviously reflect that in an offer, in appreciation for what he has done or what he can do for them in the future. We know the team has financial commitments elsewhere, but we also know Andre has continued to produce and deliver."
Everyone wants to get paid, but 33-year-old Miller is reportedly seeking a three-year deal worth $30 million. Anytime an agent starts talking about his client wanting "appreciation for what he has done," it's time to get a little worried. $10 million per season is way too much to pay Miller and his camp knows that the Sixers are probably the only team able to make that kind of an offer.
Posted in: NBA, News, Rumors & Gossip
Tags: 2009 NBA free agency, 2009 NBA free agency rumors, 2009 NBA free agents, Andre Miller, Ben Gordon, Carlos Boozer, Charlie Villanueva, David Lee, Hedo Turkoglu, Marcin Gortat, NBA free agency, NBA free agency rumors, NBA rumors, Paul Millsap