I thought Manny Ramirez was suspended?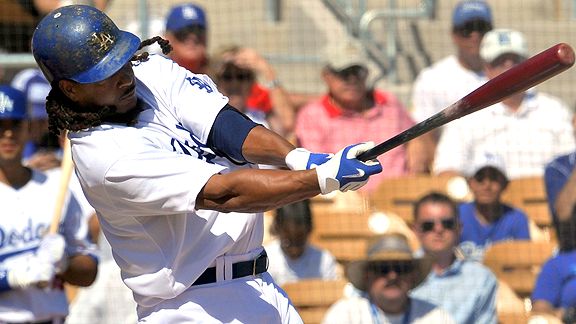 I must have missed the memo that stated Manny Ramirez's suspension was lifted from 50 games to 40.
In case you haven't heard, Ramirez is getting a fair share of work these days for the Dodgers' Triple-A affiliates. He was suspended 50 games by MLB for testing positive for performance-chancing drugs, yet apparently it's fine if he plays in some minor league games in order to get his swing back for when he's ready to join the big league club again.
Since when is it okay for someone to work during a suspension? Granted, sports will never be confused for everyday jobs, but isn't this a little ridiculous that Manny (who broke a rule) is allowed to play? If he's suspended 50 games, he shouldn't be allowed to play in any league (major, minor or little) until that suspension is completed.
This is a benefit to Ramirez; why is the league helping him out? Oh, you broke a rule, Manny? No problem – we'll still make sure that you get enough hacks in so that when you come back to the show, you'll be ready to rake again in no time. Let us know if you need anything else because we're here to serve you.
Maybe this isn't that big of a deal and I'm making too much of the situation. But come on, this isn't like a player coming off the DL who needs a quick rehab (unless they're counting this as a drug rehab, err, women's fertility drug rehab) assignment before he sees major league pitching again. This coconut got busted for a positive PED test and as suspended 50 games. So make him serve 50 games.