Cardinals acquire Mark DeRosa from Indians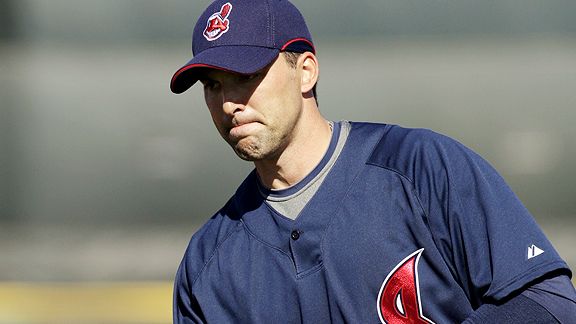 One of the more coveted veterans on the trade market has officially been snatched by the Cardinals, as the Red Birds acquired super utility man Mark DeRosa from the Indians in exchange for pitcher Chris Perez and a player to be named later.
The versatile DeRosa was a very sought-after player, especially by National League clubs. He can fit as a third baseman for the Cardinals. The Giants, Mets, Braves and Cubs were other teams believed to have had some interest. The Indians have been shopping him for a couple weeks.

DeRosa, who the Indians acquired from the Chicago Cubs in a trade last offseason, was hitting .270 with 13 homers and 50 RBIs.

Perez has a 4.18 ERA in 29 appearances with a 1-1 record and one save.
Both teams essentially get what they wanted with this trade. Cleveland coveted a young pitcher (Perez is only 24) in exchange for DeRosa (who becomes a free agent at the end of the year) and St. Louis wanted to add another bat to protect Albert Pujols in the lineup. They also needed help on the left side of the infield, which DeRosa can certainly offer.
Kind of rough market when Mark DeRosa is one of the more coveted players, although that's not a dig at DeRosa, who can play almost every position and is a solid hitter. But one year ago CC Sabathia was the top name making its rounds on the rumor mill, while two years ago it was Mark Teixeira. DeRosa doesn't really compare to those names now does he?