What's up with that Amare Stoudemire-to-Golden State trade?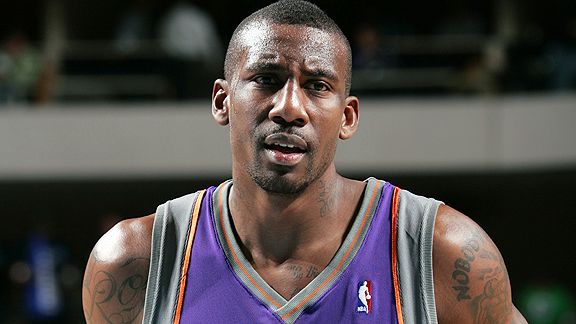 The short answer is "I don't know."
Not enough? I don't blame you. I wrote the following during my running diary on draft day:
There's a rumor that the Warriors might send Andris Biedrins, Marco Belinelli, Brandan Wright and the #7 pick to Phoenix for Amare Stoudemire. That seems like an awful lot to give up given the trades we've seen go down in recent days. But Stoudemire is a borderline franchise player, so a good center (Biedrins) and three prospects (Belinelli, Wright and the #7 pick) doesn't seem crazy.
The Warriors drafted Stephen Curry when he fell to #7. At that point, it wasn't clear whether or not he'd be headed to Phoenix as part of this trade. Paul Coro of AZCentral.com reported that he "likely" was headed to the Suns.
Golden State's selection of Davidson point guard Stephen Curry at No. 7 was likely made for the Suns as part of an Amaré Stoudemire trade that can't be completed until Wednesday. That is because Phoenix would be acquiring Warriors center Andris Biedrins, a base-year compensation player, as part of a Stoudemire deal that would include more Warriors players, possibly power forward Brandan Wright and/or shooting guard Marco Belinelli.

The Suns were hoping they could land Curry or Arizona power forward Jordan Hill with the Warriors' seventh pick but had their choice after Minnesota took neither with its fifth and sixth picks.
The next day, Coro reported that the deal was all but done, but hinged on whether or not Curry was included…
With its first-round pick, Phoenix selected 6-foot-10 Louisville forward Earl Clark, but the bigger news was that sources said the Suns expect to complete a trade with Golden State that would send Amare Stoudemire to the Warriors next week for Davidson point guard and No. 7 pick Stephen Curry, center Andris Biedrins, power forward Brandan Wright and shooting guard Marco Belinelli.

If Curry is not included, the deal will not be made. A trade cannot be completed until Wednesday because Biedrins, a 23-year-old Latvian 7-footer, is a base-year compensation player whose trade value will not match his contract number until then. The deal needs Biedrins at his $9 million salary, which stays flat through 2013-14, to make the trade work under NBA financial parameters.
Later, Golden State head coach Don Nelson said that the Warriors were going to keep Curry.
Nelson firmly declared the Warriors won't trade Curry on Friday, quashing suspicions about Golden State's intentions in selecting the former Davidson star who led the nation in scoring last season.

"He can unpack his bags and relax," Nelson said after welcoming Curry to Oakland. "He can buy a house. We drafted him because we think he's a terrific player that fits right into our program. He ain't going anyplace."
Coro tried to clarify the Suns-Warriors deal on Friday.
The Suns had an agreement in principle with Golden State about a deal that would send Amaré Stoudemire to the Warriors for Andris Biedrins, Brandan Wright, Marco Belinelli and the No. 7 pick. It was the Suns' understanding that the Warriors were drafting Curry for them.

But with Biedrins' base-year compensation status, a deal can't be completed immediately because his cap number is lower than his actual $9 million salary until July. The Suns were expecting to have to wait about two weeks (until July 8th) for the deal to be completed.

That is a lot of time, especially when there already is a lot of talk out of Golden State about the Warriors keeping Curry. That about-face apparently would nix the deal for the Suns.

Even today, there is still a belief in Phoenix that the deal will get pushed through under the initial agreement. But Golden State may have been shocked that Curry was available and is having a change of heart. There was nothing binding about the agreement.
Coro wrote yesterday that a deal sending Stoudemire to Phoenix was not dead yet.
More insiders have backed up the assertion that Phoenix thought it had a done deal going into the Warriors' No. 7 pick on Thursday night and believed it had Davidson point guard Stephen Curry once the pick came up. If the Suns did not think that Curry was Phoenix-bound, would they have taken UCLA point guard Jrue Holiday at No. 14 instead of Louisville forward Earl Clark?

We don't know that answer. We just know the Suns did not think it was very likely that Holiday would drop to them at 14 (he went 17th to Philadelphia). If anything, it appeared that Holiday was rising as the draft neared. For the Suns, the call on Holiday was going to be weighing a short track record at UCLA against the potential star quality of a hard-working, defensively strong 6-foot-4 point guard who has the court vision and willingness to pass. But they really did like Clark all along and said weeks ahead of the draft that length and defense could be priorities with the pick.

In the end, the Suns really were closer to getting Arizona power forward Jordan Hill than Curry. If Golden State planned to keep Curry all along if he was available, the Suns never had a chance at him. Had Curry gone higher as expected, the deal could have get done with the Warriors taking Hill for the Suns.
All right, so what is going on here?
It sounds as if the Warriors and Suns made an agreement for a Stoudemire swap, and when Golden State took Curry at #7, the Suns thought that pick was made for them. If the Warriors agreed to send Curry to Phoenix, but then had a change of heart, then they reneged on the deal. Being surprised about Curry's availability at #7 isn't a fair defense because the two teams would have had to have discussions about all of the possible scenarios. At some point, Suns GM Steve Kerr must have said "if Curry is available at #7, we want him as part of this deal" and Warriors GM Larry Riley either agreed or disagreed. If he agreed, then the Warriors reneged. If he disagreed, then the Suns (or Coro) are being disingenuous about Curry actually being part of this deal. If the two didn't discuss the possibility of Curry falling to #7, then both general managers are incompetent.
It's not like Curry was a sure bet to go in the top six. Sure, Minnesota's decision to draft two pure point guards back-to-back was unorthodox, but the Kings could have easily went with Ricky Rubio at #4 and the T-Wolves might have paired Tyreke Evans with Jonny Flynn at #5 and #6. Evans had a terrific workout in Minnesota and is big enough to play off guard, so it wouldn't have been shocking had Minnesota passed on Curry there.
One thing is certain — it's going to be interesting to watch this unfold. Curry didn't work out for Golden State and most indications is that he didn't want to land in Oakland. He is saying all of the right things now, but he's a mature kid, so that's no surprise. Nelson and Riley might be covering their bases when they say that he's not going to be traded. If the Stoudemire deal falls through due to one of his health issues (eye, knee), then they don't want to alienate Curry.
As for a Monta Ellis/Stephen Curry backcourt, I think it can work. Ellis is more of a slasher, while Curry is a shooter. Even though their both small, their games actually complement each other more than most people think. Nelson isn't going to be concerned about size because he feels that with the pace at which the Warriors play, an Ellis/Curry combo will put a lot of pressure on the offensive end of the court and in transition.
If a deal does finally go through, it will be interesting to see if Curry is included. After all of this drama, I don't see the Suns settling for just Biedrins, Wright and Belinelli (even though that's not a bad deal given this economy and the certainty that Stoudemire will eventually change teams in the next year). If Golden State is set on keeping Curry, but still wants to do business, they may have to throw in a future first round pick (or include Anthony Randolph instead of Wright) to sweeten the pot for the Suns. Golden State would then move forward with Ellis and Curry in the backcourt, Stephen Jackson or Corey Maggette at small forward, Randolph at power forward and Stoudemire in the middle. Conversely, the Suns would then rebuild around Clark, Biedrins and Wright, and whomever they get for Steve Nash.