Fantasy owners: Keep an eye on Andre Ethier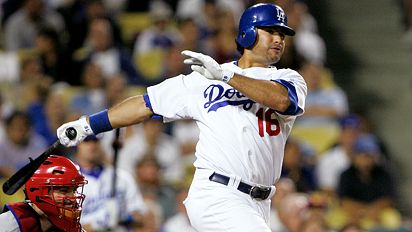 In the Dodgers' 8-2 victory Friday night over the Mariners in Seattle, L.A. right fielder Andre Ethier had his first ever three-homer game, also driving in six runs in the process. It was Ethier's fifth multihomer game of the season.
For fantasy owners, Ethier's night was a gift from the FBB gods. Owners relished in Ethier's start to the '09 season when he raced out to a .327 batting average and .574 slugging percentage in early May, but then watched as he sunk into fantasy hell after Manny Ramirez was suspended 50 games.
A month and a half ago, owners couldn't give Ethier away as a throw in to a trade. He would still hit the occasional home run, but his batting average was hovering around .260 and he wasn't driving in any runs. (He couldn't get on base to score any either.)
While his average could still use some work (he's hitting just .268), he's raised his home run total to 14 and his RBI number to 49. With Ramirez set to come back soon, Ethier could be due for a fantastic second half.
If you need more power production in your fantasy lineup, the time to make a play for Ethier is probably now. Granted, his three-homer night might make his owner overvalue his production, but Ethier's second half potential could justify giving up a little more than you would have liked. Remember that Ethier was scorching before Manny was suspended, so he could still have 15 home runs and 50 RBIs left in him. That said, considering he's hitting only .268, you shouldn't have to give up an arm and a leg for a player that his owner would have gladly given up for Mike Cameron and a pat on the back just a couple months ago.
On the flip side of all this, owners of Ethier could cash in big if they play their cards right and wait to deal him once Manny comes back. If Ethier starts raking, he could be a valuable chip in a multi-player deal that nets you three or four significant pieces depending on what else you throw in the mix.
Keep an eye on Ethier's stat line the next couple weeks before the All-Star break.