The Clippers could have traded Zach Randolph…and didn't?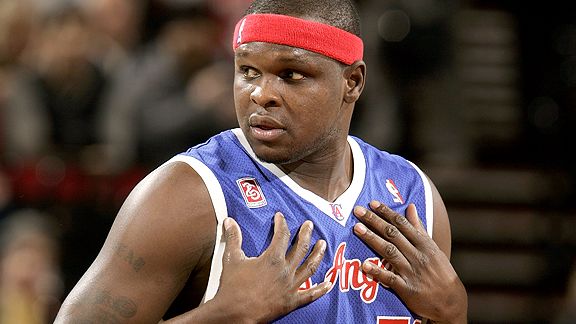 Two sources told the Commercial Appeal that the Clippers were thisclose to unloading Zach Randolph and his ridiculous contract.
The Grizzlies had agreed in principle to acquire power forward Zach Randolph on Thursday night but Los Angeles Clippers owner Donald Sterling later nixed the trade, according to two NBA sources.

During the NBA Draft, executives from both teams hammered out a package with Randolph and Darko Milicic as the key pieces. Griz guard Greg Buckner would also have been included in the transaction.
I have no idea why the Grizzlies would want to trade for Randolph, but if this report is true, it is mind boggling. He has two years and $33.3 million remaining on his deal, which is widely regarded as one of the worst contracts in the league. Had the Clippers made the trade, they would have saved at least $5 million this season and $13 million in 2010, giving the team around $17 million in cap space heading into the fabled free agency summer of 2010. The numbers might be a bit higher depending on how much of Buckner's contract is guaranteed.
Why keep Randolph? Sure, he's more talented offensive player than Darko Milicic, but the Clippers just drafted Blake Griffin, who is ready to play now. Why keep another power forward on the roster who has a reputation for being a malcontent? If I'm running the Clippers, I'd consider buying Randolph out just to keep him away from my star rookie. Griffin needs to develop in the right environment if the franchise hopes to turn their fortunes around anytime soon. This is paramount. Moreover, the team isn't going to win with the lineup it has now, so the best idea is to get as much salary cap flexibility as soon as possible.
This is a serious head-scratcher.