2009 NBA Draft: Cheers & Jeers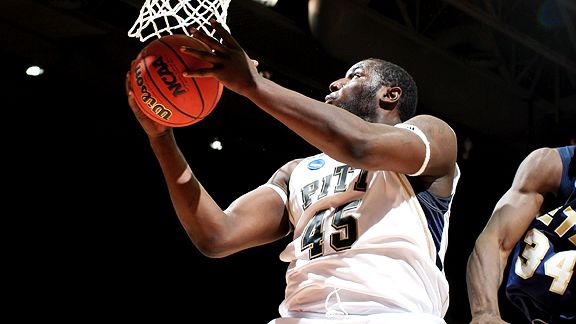 It's waaaaaaaay too early to start judging the 2009 NBA Draft, but that's not going to stop me (or anyone else, for that matter) from trying. It takes at least three years before a draft class really shakes out, so there's no reason to fly off the handle criticizing (or praising) a team for what they did on Thursday night.
That said, as the draft wore on, there were some picks I liked and some that I didn't. This is by no means the final say on whether or not the pick is good or bad; it's just a snapshot that's based on what we know right now.
So let's jump the gun:
CHEERS TO…
Thunder: #3 James Harden
I don't know that Russell Westbrook is really a point guard, but Harden projects to be a great fit in OKC.
Sixers: #17 Jrue Holiday
The talented freshman worked out for most of the lottery teams and was reportedly up and down leading up to the draft. With this much PG depth, I figured someone would slip and the Sixers were the beneficiary. In Holiday, they get a lottery talent and their point guard of the future, though Lawson would have been able to come in and help the Sixers more immediately.
Nuggets: #18 Ty Lawson
I thought he'd go to a team in more need of PG help, but the Nuggets swooped in and snatched him up. At the very least, I think he's going to be a capable starter.
Grizzlies: #36 Sam Young
At 24, Young doesn't have the upside of many of the players drafted ahead of him, but he's already a better player than most, as well. If he can improve his handle, he could be a starter-quality small forward.
Spurs: #37 DeJuan Blair
Think this guy played with a chip on his shoulder before? Just wait and see what kind of energy he brings in 15-25 minutes playing for the Spurs. I know his knees are an issue, but I'm shocked that he wasn't picked earlier in the second round.
Hornets: #43 Marcus Thornton
The Hornets have issues on the wing and they took a point guard with their first pick. They made up for it in the second round by acquiring Thornton, an off guard, from the Heat. He's a great scorer and can make contested jumpers.
JEERS TO…
Timberwolves: #5 Ricky Rubio / #6 Jonny Flynn
It's not that I don't like the individual players or the individual picks; they just don't make any sense when picked together. I don't know how a Rubio/Flynn backcourt will be successful. Had the T-Wolves drafted Stephen Curry with one of the picks, it would have made a lot more sense.
Jazz: #20 Eric Maynor
Maynor is a good all-around player, and maybe the best that was available, so let's not be too hard on the Jazz here. Still, how many minutes is he going to play behind Deron Williams? If he turns out to be a player, they can use him as an asset, so maybe they didn't feel that way about any of the frontline players that were available.
Hornets: #21 Darren Collison
New Orleans has star/superstar quality players at PG, PF and C, and a good young prospect in Julian Wright at small forward, so off guard seems to be their biggest need. Like Utah, the Hornets went with a point guard to back up their best player. I like Collison, I just don't like this pick for New Orleans (though they made up for it in the second round).
Blazers: #31 Jeff Pendergraph / #33 Dante Cunningham
I don't have a problem with the players themselves, but with the fact that Portland passed on DeJuan Blair twice in the second round (where the financial risk is much lower if his health turns out to be a problem). They could have used his toughness and rebounding, but were unwilling to roll the dice on his knees.
Comments Off on 2009 NBA Draft: Cheers & Jeers

Posted in: College Basketball, NBA, NBA Draft
Tags: Darren Collison, DeJuan Blair, draft winners and losers, Eric Maynor, Jonny Flynn, Jrue Holiday, Marcus Thornton, NBA Draft, Ricky Rubio, Sam Young, Ty Lawson