Trying to make sense of the Timberwolves' first two picks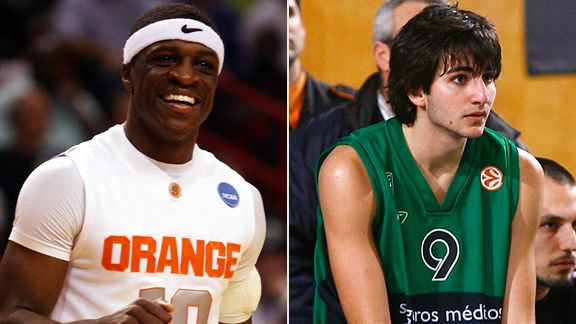 Probably the most perplexing sequence of events occurred early last night when the Minnesota Timberwolves picked Ricky Rubio and Jonny Flynn — two pure point guards — with back-to-back picks. My first instinct was that GM David Kahn (Kaaaaaaaaaahn!) was working out a trade for one of the guards, possibly moving Rubio to the Warriors or Knicks or some other team for a pick and/or veteran help. But then Ric Bucher popped his head in to inform us that Kahn said that he plans to play Rubio and Flynn together. Later on, Kahn mentioned a few examples of point guard duos that have played well in the past, citing Isiah Thomas and Joe Dumars, Dennis Johnson and Danny Ainge, and…gulp…Michael Jordan and John Paxson.
Setting aside the Jordan/Paxson comparison for a moment, let's look at the other two examples. DJ and Ainge were both 6'4″ combo guards and neither guy had to have the ball in his hands to be effective. I don't think the same will be said about Rubio or Flynn (certainly not Rubio). Dumars was 6'3″ defensive stopper and deadeye shooter, while Zeke was a ball-dominant playmaker. In short, Thomas was a pure point guard, while Dumars, Ainge and DJ were combo guards. Those backcourts worked because the two players complemented each other.
But back to Jordan/Paxson — if I'm a Timberwolves fan and I hear that my general manager is referring to Michael Jordan as a point guard, I'm getting out on the ledge. MJ was a 6'6″ wing, who could do everything — handle, shoot, post up and play defense. He was more of a 2/3 who could run the point if necessary. If Kahn really thinks that he was a point guard, then that shows an alarming lack of basic knowledge about the game.
But that's not the only reason the comparison is invalid. A general manager should not be invoking Jordan's name when discussing his first few picks in the draft. He is arguably the greatest player ever to play the game, so it's not fair to expect your rookies to do the same things he did. Any backcourt that featured Jordan would have worked. He was that good.
Once Hasheem Thabeet, James Harden and Tyreke Evans were off the board, I thought for sure the T-Wolves would take a point guard (Rubio or Flynn) and Stephen Curry, who is a smallish combo guard that can shoot the lights out. If you want to run him at off guard, you need to pair him with a pure point guard to set him up. A Flynn/Curry or Rubio/Curry backcourt would have had a real chance at working. Rubio/Flynn would serve as the playmaker, while Curry's shooting would create space for Al Jefferson and Kevin Love to work in the post. Defensively, a backcourt like that would have its share of problems, but at least it would make sense on the other end of the court.
I just don't think a Rubio/Flynn backcourt will work. Both players are ball-dominant and neither guy shoots the ball very well. Rubio isn't strong enough to cover most opposing shooting guards and Flynn isn't tall enough to cover big guards on the block. Throw in the fact that Rubio doesn't sound too thrilled about the prospect of playing in Minnesota, and Kahn might have one big mess on his hands.
Here is some more commentary about Minnesota's first two picks…

Bill Simmons, from his draft day diary: An orgasmic Fraschilla says Rubio is "the best passer in the last decade of drafts" and he's "got a Gretzky-like feel, he sees the game two and three plays ahead." Totally agree. So much for Minnesota doing the right thing. The Wolves just took Syracuse's Jonny Flynn … whom I really like … but … well … he's a point guard. Didn't they just take Rubio? Did I black out? You're going to have two young ball handlers playing together — one who's 5-foot-11, the other who's 18 years old and weighs 180 pounds (and 30 of that is his hair), and that's your plan? Who's guarding the Kobes and Vinces out of those two? Why didn't they just take Curry? And why aren't the ESPN guys wondering about a trade here or, at the very least, murdering this pick? THEY JUST TOOK TWO STRAIGHT POINT GUARDS!!!!!!!!!!
Chris Mannix, SI.com: In a draft deep with point guards, Minnesota seemingly picked all of them. At least that's what it felt like as four of the first five picks by new GM David Kahn play the point. After a couple of trades, the Timberwolves were left with Ricky Rubio and Jonny Flynn, along with UNC shooting guard Wayne Ellington and forward Henk Norel of the Netherlands. For now, the Timberwolves say they will go to camp with both Rubio and Flynn. But Rubio may have something to say about that. Sources close to Rubio say he is less than enamored with the prospect of playing in the Twin Cities and that his buyout situation with his Spanish club remains sticky. If Rubio balks at coming to Minnesota or if he is forced to remain in Spain for another year (a long shot, but possible), the Timberwolves could be forced to deal him.
Tom Powers, Pioneer Press: At first, we thought Kahn had a trade up his sleeve. After all, he had just sent his two top shooting guards to Washington. Randy Foye and Mike Miller saw the bulk of the action at that position for the Wolves last season. As near as I can tell, someone named Bobby Brown currently sits at the top of the Wolves' depth chart at that position. That's because he is the only veteran two-guard left on the roster. And he's not even a true shooting guard. But Kahn quickly sent word that he planned to keep both players, giving examples of how two point guards have co-existed in the same backcourt — Michael Jordan and John Paxson, for instance.
Chad Ford, ESPN: Rubio and Flynn might have been the two best point guards in the draft. But to fall in love with them both and actually take them both amounts to point guard polygamy. I really don't know what to think about the Timberwolves' draft. I keep waiting to hear about a trade that tells us where Rubio or Flynn is really going, but it hasn't come, and GM David Kahn says he wants to keep them both. So, to recap: The Wolves traded two key players on their roster, Randy Foye and Mike Miller, and took back bad contracts to get the No. 5 pick, a questionable move. Then they got the two guys they love, Rubio and Flynn. Terrific. Then Kahn announced his idea to have Rubio and Flynn play together in the backcourt. Huh? I could see it, I guess, had it been Stephen Curry they drafted to play alongside Rubio. But Flynn as a 2 guard? Really? The Wolves appear to have outsmarted themselves. Here's the problem: Even if the Wolves' idea to play them together was a good one (and it isn't), I don't think Rubio would go for it. If he wants to, he can go back to Spain for the next year or two (or more) and really foul things up for the Wolves. Given how things look right now, I think he just might do it.
Jim Souhan, Star Tribune: Kahn assures us the two will play together, in the manner of Dennis Johnson and Danny Ainge or Joe Dumars and Isiah Thomas. That concept, along with Flynn's toughness, is intriguing, but this draft will be defined by Rubio. He could be great. He could be a soft Euro who gets eaten up by stronger, fiercer players such as Tyreke Evans and Flynn. I lean toward the former view. In a league that has outlawed handchecking, skilled guards — and especially skilled guards with size — can dominate. The key for Rubio will be working with a coach who can help him develop and teammates who can make use of his passing. That's where this gets tricky. At this moment the Wolves' two cornerstone players — Al Jefferson and Rubio — might as well play different sports. Jefferson needs room and time in the low post, and the Wolves didn't draft Rubio to stand outside, dump the ball in to Jefferson and get back on defense.
Henry Abbott, TrueHoop: [Kahn] called Rubio potentially a "transformational" player, and was clear that "it was not an attempt to take Ricky to trade him." (There was a report from a TrueHoop reader in Minnesota that Kahn was effusive about Jonny Flynn, and mentioned to the assembled crowd that it was possible Rubio would not come over this season, which was odd as Rubio had said time and again he would come.) Whether Kahn intends to keep Rubio or trade him, it's a good strategy to say he's in Minnesota to stay. Were Kahn to say that he drafted Rubio to trade him, he'd lose leverage in trade negotiations. (He needs his suitors to think that he'd hate to part with Rubio, but for the right price … we could talk.) Remember when the Bucks drafted Yi Jianlian, and there was much bellyaching about whether not the Chinese player would report to Milwaukee? A year later, Yi was later traded to a team more to his liking, in New Jersey. His hard-bargaining agent was Dan Fegan — who also represents Rubio. That's no sign the relationship between the Timberwolves and Rubio will end the same way — culminating in an eventual departure. But it's starting out in similar vein.