NBA Rumors: Stoudemire, T-Mac, Brand and more draft talk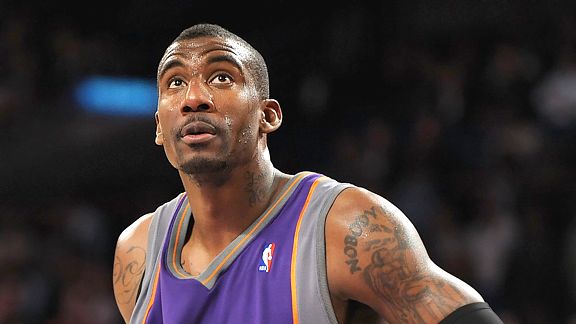 According to the same source that disclosed Terry Porter was about to be fired as Suns coach, the Rockets are leaning toward swapping Tracy McGrady's expiring $22M contract, Carl Landry and Aaron Brooks for Leandro Barbosa and Stoudemire, who owns an escape clause after next season and is demanding an extension this summer to waive it.
I'm not sure what the upside is for the Suns. Stoudemire will likely opt out of his contract after the season, so they aren't gaining any financial flexibility. They do get a couple of good young players (Landry and Brooks), but is that really enough? McGrady is a very good player when healthy, but he can't seem to stay upright.
This would be a bold move for the Rockets, but it would leave them awfully thin at point guard. Kyle Lowry would be the only experienced PG on the roster, but Houston could use its mid-level exception to go out and get a veteran like Andre Miller or Mike Bibby, though the MLE may not be enough.

Memphis still hasn't decided what to do with the #2 pick.
Heisley, in town Wednesday preparing to oversee the Grizzlies' draft war room, contended the organization's next move still was up in the air just hours before draft proceedings were set to begin.

They've haven't come to a consensus on a player if the Griz exercise their top pick. They're still talking about trades.
Um, it really shouldn't be this difficult. There aren't too many variables to the equation. Blake Griffin is going to go #1, so the Grizzlies can pick anyone they want #2, or trade it away. Unless they're waiting for a really great offer, it's a pretty frightening prospect for their fans if the Grizzlies truly don't know what they're going to do tonight.

Evans the Kings' choice at #4?
As for who the Kings pick at No. 4? It's still sounding like Memphis' Tyreke Evans, but today and the in-house discussions that are going on do truly matter. Davidson's Stephen Curry may be the safe pick, and I almost wonder if he winds up being the guy with the understanding that the Kings love his offense and simply plan to add defensive pieces elsewhere to shore up that weakness (they love Louisville's Terrence Williams). Syracuse's Jonny Flynn still has fans among the team's decision makers and makes sense to them on a lot of fronts.

Lastly, Ricky Rubio. If the anti-Rubio sentiment that was so prevalent in the Kings camp over the last few weeks was actually all smoke, then Cheek and Chong would be proud. But there are strong basketball arguments to be made that he would be the best fit based on need, and the business and what his presence could do to help the bottom line is certainly being discussed.
This could be a case of the Kings blowing some smoke. If they want Rubio, they could be pretending that they're going to pass to dissuade teams from trading with Memphis or Oklahoma City in order to leapfrog the Kings and snatch him up. But Evans reportedly performed really well in his last workout and Jonny Flynn is high on their board as well. I think there's a pretty good chance that Evans ends up being the Kings' pick.

Elton Brand on the block?
An NBA source has confirmed that Stefanski has shopped power forward Elton Brand, last off-season's blockbuster acquisition. That same source indicated Brand is unlikely to be traded because he has four years and $65 million left on his deal and has health concerns because his last two seasons ended in injury.
Brand might be worth his contract when he's healthy, but that's a big question mark right now.

The Raptors want to re-sign Marion.
"The Shawn variable is a big one," Colangelo said. "I think we'll prioritize it to make him a part of this team, because I really do think he's a good fit, and I think you saw that at the end of the season, when we were really rolling … The message has been that he wants to be here."
In 27 games with Toronto, Marion averaged 14.3 points and 8.3 rebounds. The Raptors went 9-4 in their last 13 games, and during that span, the Matrix posted 16.2 points and 9.4 rebounds, numbers that are almost the same as his final year in Phoenix.
Toronto is one of the teams with significant cap space this summer, but if the Raptors elect to re-sign Marion, they probably won't be able to afford any other big-name free agents. He's a nice fit for what they're trying to do, but he's not a long-term solution.

Minnesota moving up…for Tyreke Evans?
A source told The Oklahoman on Wednesday that Minnesota, which has the Nos. 5, 6, 18 and 28 picks, might try to move up to No. 3, not to select Hasheem Thabeet or Rubio, but Tyreke Evans.

The Timberwolves are convinced the Sacramento Kings will take Evans at No. 4 and might want to leapfrog the Kings. But Minnesota also has interest in Rubio and Thabeet, so it doesn't want to overpay and might keep picks 5 and 6.
Evans stock seems to be on the rise of late, but it's tough to tell if it's real, or if it's just a smokescreen. If the Wolves want Evans and believe the Kings will take him at #4, then the trade makes sense for both teams, assuming the Thunder are happy with James Harden at #5. (The Kings are unlikely to take him at #4 because they already have Kevin Martin at shooting guard.)
But both Minnesota and Sacramento have been long linked with Ricky Rubio, so they may be trying to bluff their way into a position where they can draft the Spanish star.
Posted in: NBA, NBA Draft, News, Rumors & Gossip
Tags: 2009 NBA Draft, 2009 NBA free agency, 2009 NBA free agents, Amare Stoudemire, Amare Stoudemire rumors, Elton Brand, Elton Brand rumors, NBA Draft, NBA Draft rumors, NBA free agency, NBA free agency rumors, NBA rumors, Ricky Rubio, Ricky Rubio draft, Shawn Marion, Shawn Marion rumors, Tracy McGrady, Tracy McGrady rumors, Tyreke Evans, Tyreke Evans draft, Tyreke Evans rumors