NBA Rumors: Bosh and Wade talk about 2010, David Lee to Portland, and more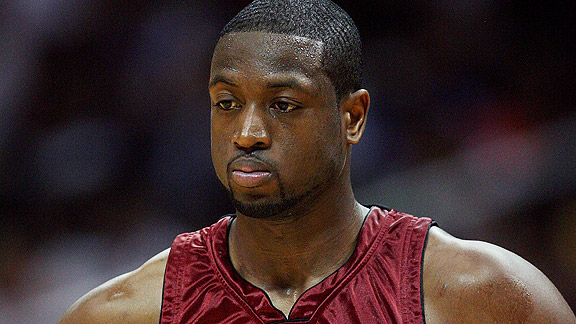 Chris Bosh discussed Miami as a possible destination next summer.
"As of right now, I'm not sure. I like Miami, don't get me wrong. But I don't know what comes along with being a part of that organization. I don't even have any friends in Miami, which was the funniest part. A close friend of mine hit me yesterday and was like 'Hey there's another article out' and I was like 'What now?' 'Apparently a friend in Miami said you're going to Miami.' He sent me the article and I read it, and I'm like, 'now they're just making stuff up.'"
For Heat fans, re-signing Dwyane Wade and signing Bosh would be a dream scenario next summer. The best thing Miami has going for it (other than South Beach, of course) is Wade, so if Bosh signs he better hope that Wade doesn't pull an Elton Brand and bolt. Speaking of…

Dwyane Wade discussed his hometown of Chicago as a possible destination next summer.
"I'm not ruling out a lot of places, including Chicago, but I'm not really thinking about those places. Like I said, 2010 is the year when I will sit down and open up my options and, hopefully, I'm still blessed and healthy to have those options and then go from there. But Miami is my number one option and I've made that clear. That's where I want to be and, hopefully, we can get everything right here in Miami."
Wade is just keeping his options open. He has said repeatedly that he'd like to stay in Miami, but he's keeping the organization's feet to the fire by insinuating that he still might leave if the franchise is unable to surround him with good players. The Heat are projected to have significant cap space next summer, so they could conceivably sign Chris Bosh, Amare Stoudemire or even LeBron James.

If the Knicks draft Jordan Hill, then David Lee may be moved in a sign-and-trade.
Adding Hill would mean the Knicks will attempt to deal free agent David Lee in a sign-and-trade in July, possibly with Portland.

The Eastern Conference's road to The Finals no longer goes through LeBron James' palace. It goes through Dwight Howard's Magic Kingdom.

An ability to defend the post is tantamount — something King James' Cavaliers failed to do. Currently, the Knicks probably have the NBA's worst post defense. Hence, Donnie Walsh's fascination with Hill.
Portland doesn't make a lot of sense other than the fact that they could use some toughness and rebounding inside. I don't know what's in it for the Knicks. The Blazers don't have any expiring contracts, so New York would need to pry away one of the Blazers' young pieces. With Brandon Roy and LaMarcus Aldridge seemingly off the table, would Portland give up Rudy Fernandez or Greg Oden to land Lee? Jerryd Bayless, Travis Outlaw, Sergio Rodriguez and Nicolas Batum are other possibilities.
The Knicks currently project to have about $34 million in cap space heading into the 2010 season, enough to sign two big name free agents. If they take on more than $4 or $5 million in salary as part of this potential trade, they're only going to have enough cap space to sign one superstar. (Unless of course, they can rid themselves of Eddy Curry or Jared Jeffries.)

According to the LA Times, the Magic need to get rid of Rafer Alston.
The Magic's first order of business during this all-important off-season must be to do whatever's necessary to get rid of point guard Rafer Alston.

You heard me. "Skip to My Lou" must skip outta town if the Magic is to move forward with Jameer Nelson as the starting point guard and de facto leader of the team. Just call it addition by subtraction.
Alston only has one year remaining on his contract, so he shouldn't be difficult to move and it shouldn't have much of an impact on the Magic's attempt to re-sign Hedo Turkoglu. He's a borderline starter in this league, so it's not inconceivable that Orlando could keep him to backup Jameer Nelson, since he says he won't be a distraction.

The Golden State brass reportedly promised Ellis that they wouldn't draft a playmaking guard.
One source indicates that Ellis came out of the Nelson/Riley meeting with the understanding that they would not draft a play-making guard to usurp Ellis' standing.

I assume that Brandon Jennings, Ricky Rubio, Jrue Holiday, Jonny Flynn, Stephen Curry and Tyreke Evans would all fall into that promise-won't-draft category.
This is a little different than promising not to draft a point guard. While I would classify Rubio, Jennings, Flynn, Evans and probably Holiday as "playmakers," I would not describe Curry that way. Curry is at his best when he's shooting, and if he's spotting up with his feet set, even better. He and Ellis could conceivably share the backcourt duties in Golden State, and might actually fit well together.

Turkoglu looking for $10 million per season?
When Turkoglu opts out of the final year of a six-year, $36 million contract on June 30, he'll become an unrestricted free agent starting July 1. He'll assuredly be looking for a five-year contract and likely one worth the $10 million a season that Corey Maggette got last summer from the Golden State Warriors.
Turkoglu is a lot better than Maggette, but that doesn't mean that he's going to get the same kind of contract. The Maggette signing was even considered lavish last year when it went down (and the NBA economy was better), so why should the Magic base Turkoglu's contract on a bad deal that the Warriors made in knee-jerk reaction to losing Baron Davis and missing out on Elton Brand? The Magic should pay him his market value and he should take it. I don't think there are too many teams in a position to give him $10 million per season, so I'd start with a deal averaging $8 million and go from there. I think the Magic could get this done for $8.5-$9 million per season. Turkoglu needs to remember who gave him a chance to flourish. More importantly, he has a good thing going in Orlando and he shouldn't sacrifice several guaranteed playoff runs for a few extra million.

Luke Walton is a genius.
Luke Walton said he told general manager Mitch Kupchak and Coach Phil Jackson during his season-ending meeting on Tuesday that "if we can bring everyone back, we'll definitely be competing for an NBA title, at least for the next couple years."
Really? He's saying that if the team that just won the title can bring everyone back, they'll be a contender next season. Did he major in rocket science at the University of Arizona?

If Phil Jackson retires, will Coach K take over?
At least one well-informed NBA informant insists that Lakers coach Phil Jackson will hang up the clipboard this summer and his successor could be Duke's Mike Krzyzewski — especially if his highly-influential agent (Kobe Bryant) puts the heat on Lakers management.
File this one under pure speculation. Besides, other than a crapload of money, I don't see the upside here for Mike Krzyzewski. The Lakers just won the title and are expected to win it again next season. If he takes over, and the Lakers lose, he'll get the blame. If they win, then no one will give him any credit because they were supposed to win.
Can you imagine how this will affect all the Laker and Duke haters around the country? Their heads will explode.

Yesterday's rumors…
Does Ben Gordon have a promise from the Pistons?
Posted in: NBA, NBA Draft, News, NFL Draft, Rumors & Gossip
Tags: 2009 NBA free agency, 2009 NBA free agency rumors, 2009 NBA free agents, 2010 NBA free agency, 2010 NBA free agency rumors, Coach K to L.A., Hedo Turkoglu, Hedo Turkoglu rumors, Jordan Hill, Jordan Hill draft, Jordan Hill rumors, Mike Krzyzewski, NBA Draft, NBA Draft rumors, NBA free agency rumors, NBA rumors