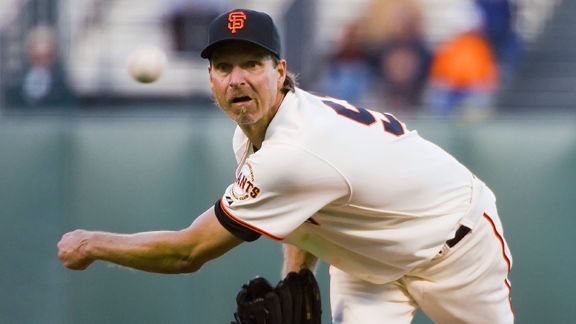 With the Giants' 6-3 win over the Braves on Wednesday night, Randy Johnson earned career victory No. 299.
Johnson breezed through the first five innings, retiring 15 of the first 16 batters he faced, striking out five and allowing just one run and three hits. But he ran out of gas in the sixth and had to be relieved by Brandon Medders, who got out of that inning but allowed Atlanta to score two unearned runs to cut into San Fran's lead at 4-3.
But the Giants managed to add two runs in their half of the seventh and gave the bullpen enough of a cushion to preserve the win for the Big Unit, who will now go for career win No. 300 next Wednesday on the road against the Nationals.
If Johnson claims victory, he'll join amazing company in Cy Young, Warren Spahn, Nolan Ryan, Don Sutton, Greg Maddux and Tom Glavine as other pitchers who have 300 career victories. It would have been nice for the home crowd in San Francisco if the Big Unit went for 300 at AT&T Park, although I think they've already seen a great moment or two in baseball history over the past couple years. (Even if a lot of baseball fans think that moment was tainted.)