If Manny was juicing in Boston, are Red Sox championships tainted?
When you put aside the notion that he cheated the game of baseball for his own personal gain, what most people are generally upset about in regards to Barry Bonds and steroids is that he broke Hank Aaron's home run record. Not only was he allegedly juicing, but in doing so, he also broke one of the most sacred records in all of baseball and most are calling for his name to be scratched from the record books.
In the wake of Manny Ramirez's 50-game suspension, there's another topic that should be broached, similar to Bonds' home run record. Considering Manny hit cleanup for the Red Sox' two championship teams this decade and also won MVP of Boston's World Series sweep of the Cardinals in 2004, should the BoSox' titles be considered tainted if Ramirez was on steroids?
To get the semantics out of the way first, no, Manny didn't test positive for steroids. He only tested positive for a women's fertility drug that is often used by athletes and bodybuilders to restore testosterone levels after steroid cycles. To be fair, Ramirez has never tested positive for steroids and therefore anything linking him to PEDs should be considered speculation.
However, if we're truly being fair, Bonds never tested positive for steroids either. Yet, because his head grew to the size of a small watermelon and his physique went from Bruce Banner to the Incredible Hulk over the course of only a couple of years, it's safe to say that Bonds was on some kind of human growth hormone and therefore his accomplishments should be questioned and criticized.
And so should the Red Sox's two World Series titles.
Considering baseball is a team game, some people are going to argue that this Red Sox-tainted World Series topic is nonsense. But we're not talking about the bullpen catcher taking steroids – we're talking about the clean up hitter who just so happened to be an integral piece in a team winning two championships.
If all else is equal, then we should question the two Red Sox titles in the same breath as we criticize Bonds' home run record. Bonds (possibly) cheated in order to attain the Holy Grail of personal accomplishments, while Manny (possibly) cheated in order to attain the Holy Grail of team accomplishments. When you consider that Bonds' record could someday be broken, but the two Red Sox titles can never be stripped away from them, which dastardly deed was worse?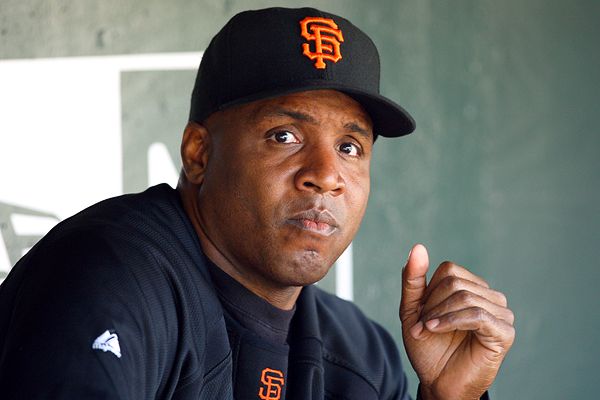 Don't get it twisted – this isn't my plea for the two Red Sox championships to be stricken from the record books. Baseball is a team game and it took 24-plus other players to help Boston win its two World Series titles (as opposed to one super-juiced Barry Bonds to break Hammerin' Hank's record). But if the accomplishments of once-thought-to-be Hall of Famers are now in question (i.e. Bonds' home run record), then why can't the accomplishments of certain teams be in question as well?
Bonds and the Giants were six outs away from winning a World Series in 2002. In that series (which San Fran inevitably lost to the Angels in seven games), Bonds hit four home runs and had the Giants won, there's a very good chance that he would have been MVP. If the Giants did win and he took home the MVP award, fans would be screaming about a tainted World Series title because Bonds is the ultimate poster child for steroids in baseball. Sports writers everywhere wouldn't have been able to utter the words "Giants World Series victory" without fans slamming it because of Bonds' involvement with steroids and you can't convince me otherwise.
So why isn't anyone screaming about two tainted World Series titles for Boston?
To be fair so it doesn't seem like I'm singling out only Boston, one could argue that the Yankees' World Series titles in 1999 and 2000 should also be questioned. At least three of their pitchers (Andy Pettitte, Roger Clemens and Jason Grimsley) have either been implicated, admitted or accused of taking PEDs, so fans could easily apply the tainted tag to their titles, too. (Pettitte was also on the team when they won in 1998.)
And before anyone compares the value of a starting pitcher to a cleanup hitter, don't forget the impact a pitcher can have in a seven game series in the Fall Classic considering they pitch on only three days rest instead of four like the regular season.
The sad thing is, no matter what side of the fence you're on in this debate, it's one that will likely grow if/when more players are suspended. What if Albert Pujols tests positive for PEDs? The Cardinals won in 2006. How about Ryan Howard? The Phillies won in 2008. We could speculate about every slugger on every World Series-winning team in the "steroid era" until we're blue in the face.
But the overall point is, we're often so quick to judge Bonds and his achievements (and you could group Mark McGwire, Sammy Sosa, Rafael Palmeiro and every other juicer together too for what they accomplished in baseball's record books), yet it seems like we're willing to give teams a pass.
Why?
Posted in: MLB
Tags: Albert Pujols, Barry Bonds, Barry Bonds Manny Ramirez, Barry Bonds steroids, Boston Red Sox, Manny Ramirez, Manny Ramirez 50 game suspension, Manny Ramirez steroids, Manny Ramirez suspension, New York Yankees, Roger Clemens, Roger Clemens steroids, Ryan Howard, San Francisco Giants