Manny Ramirez to be suspended 50 games for positive PED test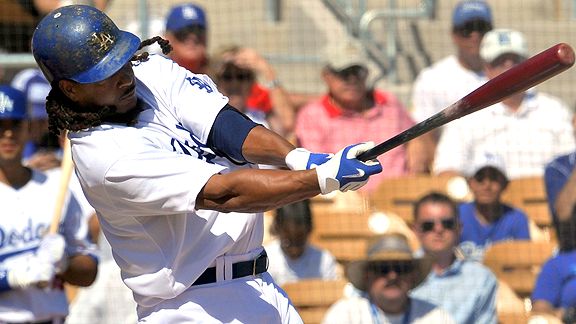 According to a report by the Los Angeles Times, Dodgers' outfielder Manny Ramirez will receive a 50 game suspension for testing positive for performance-enhancing drugs.
The suspension will cost Ramirez $7.7 million, or roughly 31% of his $25-million salary. Players in violation of baseball's drug policy are not paid during suspensions.
Ramirez is expected to attribute the test results to medication received from a doctor for a personal medical issue, according to a source familiar with matter but not authorized to speak publicly.

With the suspension taking effect with tonight's game against the Washington Nationals at Dodger Stadium, Ramirez will not be eligible to return to the team until July 3.

Ramirez would become the biggest star suspended under an oft-criticized major league testing program that started in 2003. He had been a model citizen since arriving in Los Angeles last August, following a stormy tenure with the Boston Red Sox.

This is the second drug scandal to rock baseball within four months. In a year in which baseball officials hoped their greatest concern would be the slumping economy, the two highest-paid players in the game have been revealed to have failed a drug test.

Alex Rodriguez, the game's highest-paid player, acknowledged during a February news conference that he used steroids from 2001 to 2003. The admission followed a Sports Illustrated report that he failed a drug test in 2003, when players were not subject to suspension.

Ramirez did not appear in the clubhouse after the Dodgers' 10-3 victory over the Washington Nationals Wednesday night. After the game, Dodgers General Manager Ned Colletti and Manager Joe Torre said they were unaware of any failed test or pending suspension.
Remember, he tested positive for a performance-enhancing drug – that doesn't necessarily mean that it was steroids. In fact, Peter Gammons said on ESPN that he doesn't believe it was a positive steroid test and quite frankly, I hope it wasn't. Baseball doesn't need another star to be caught taking roids – it's bad for the game and although Man-Ram is a bit nutty, he's always been known as one of the best pure hitters in the game and I hope his accomplishments are pure.
Either way, this devastating news for the Dodgers, who still have enough talent to win in a weak NL West, but suffer a massive downgrade in their lineup if Juan Pierre takes over in left field.
Good for Major League Baseball, though. Baseball fans like to (rightfully) hammer the weak testing policy that baseball seldom enforces, but the suspension of a huge star like Ramirez maybe proves that times are changing. Maybe Bud Selig is finally starting to clean up the game that he helped soil for so long and hopefully more suspensions like this are coming for any player that fails a PED test.
I can't help but to chuckle thinking about how long Ramirez and Scott Boras dragged out their negotiations with the Dodgers last offseason in order to get the most possible money and now he stands to lose $7.7 million with this suspension. Yet I feel bad for the Dodgers because not only did they have to wonder all offseason whether or not they would have Ramirez back in their lineup, but now they lose their biggest slugger for 50 games. It's a shame.
By the way, that noise you hear is thousands of Red Sox fans laughing their collective asses off.
Related Articles:
– Manny: Drugs came from physician for personal health issue
Posted in: MLB
Tags: Man-Ram sexual enhancer, Manny Ramirez, Manny Ramirez 50 game suspension, Manny Ramirez failed drug test, Manny Ramirez HCG, Manny Ramirez positive test, Manny Ramirez sexual enhancer, Manny Ramirez suspended, Manny Ramirez suspended 50 games, Manny Ramirez suspension, Manny Ramirez tests positive, Manny Ramirez tests positive for performance-enhancing, Manny Ramirez used sexual enhancer, MLB drug policy, MLB suspends Manny Ramirez