Source: Ramirez tested positive for sexual enhancer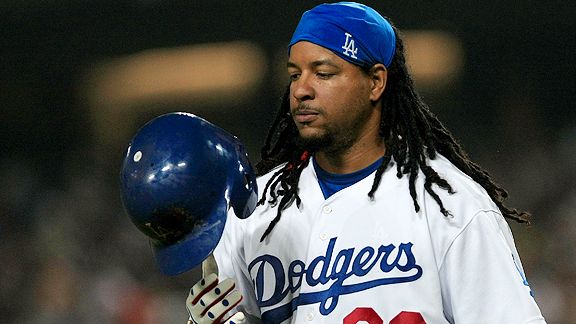 According to Yahoo! Sports, the illegal substance that Manny Ramirez tested positive for is supposed to boost sex drive.
Two sources said Ramirez tested positive for a gonadotropin. Major League baseball's list of banned substances includes the gonadotropins LH and HCG, which are most commonly used by women as fertility drugs. They also can be used to trigger testosterone production. Testosterone is depleted by steroid use, which can cause sexual dysfunction.

"Testosterone and similar drugs are effective for erectile dysfunction in that they jazz up your sex drive," said Charles Yesalis, a professor at Penn State who has testified before Congress on issues of performance-enhancing drugs. "But far more clinicians accept that affect with Viagra and Cialis. It's hard for me to understand if it was erectile dysfunction why they would use it."

Ramirez tested positive for the substance during spring training, then was administered a second test more recently, and it also was positive. Major League Baseball notified Ramirez of the second positive test after Wednesday night's Dodgers victory over the Washington Nationals. Ramirez admitted to having taken the substance and declined to appeal. His 50-game suspension begins today.

"The substance is not a steroid and it is not human-growth hormone," the source said.
Hey, you can't fault a man for taking something to add a little pep in his step, but the question is – why did he take it? Was he using it to correct erectile dysfunction because he was on steroids and his testosterone was depleted? Or was it just because he has erectile dysfunction? If it's the latter, then it's hardly anyone's business and it's unfortunate that Ramirez was suspended 50 games for it. But if it's the former, then he should fry.
Either way, you can't blame MLB for having LH and HCG on the list of banned substances because you don't know if players are using it to mask their steroid use. And considering he tested positive for the substance in spring training, what a slap in the face of the Dodgers, who Manny and Scott Boras put through negotiation hell all offseason.
Related Articles:
– Manny: Drugs came from physician for personal health issue
– Manny Ramirez to be suspended 50 games for positive PED test
Posted in: MLB
Tags: Man-Ram sexual enhancer, Manny Ramirez, Manny Ramirez 50 game suspension, Manny Ramirez failed drug test, Manny Ramirez HCG, Manny Ramirez positive test, Manny Ramirez sexual enhancer, Manny Ramirez suspended, Manny Ramirez suspended 50 games, Manny Ramirez suspension, Manny Ramirez tests positive, Manny Ramirez tests positive for performance-enhancing, Manny Ramirez used sexual enhancer, MLB drug policy, MLB suspends Manny Ramirez