Tony Dungy visits Michael Vick in prison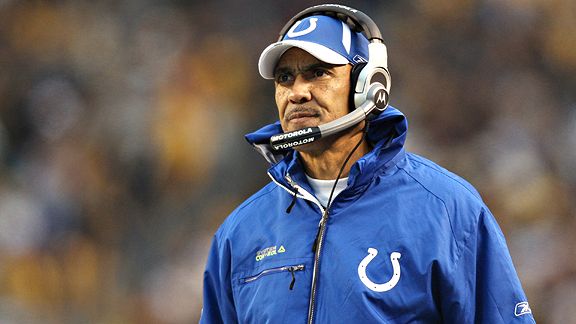 Former NFL head coach Tony Dungy visited Michael Vick at a federal prison in Leavenworth, Kansas recently and according to Vick's agent Joel Segal, the meeting was "private" and "positive".
Vick met with Dungy to discuss his life after he gets out of prison. He is scheduled to leave Leavenworth May 20 and serve the remainder of his sentence under home confinement at his five-bedroom home in Hampton, Va., with his fiancée and two of his children.

"I am going out there to really talk about life. To talk about the Lord," Dungy said on the show. "I know he has made a profession that he has accepted the Lord into his life. Talk to him about what he's going to face. Most people are going to be against him. He's got to understand that."
Considering all the work Dungy does with his youth boys programs, I would imagine the conversation with Vick was very positive. But everything is in Vick's hands now. Dungy can't be with him every second of every day to ensure he's staying out of trouble and making something of his life. It's up to Vick to show remorse for what he has done and to move forward with his life in a positive manner. Returning to the NFL should be the last thing on Vick's mind right now and here's hoping he continues to seek Dungy's guidance from here on out.