Lions sign Matthew Stafford to six-year, $78 million deal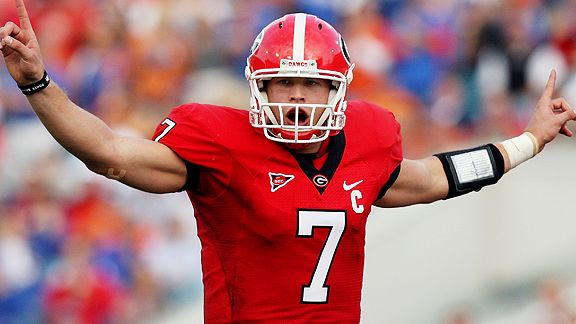 Jay Glazer of FOXSports.com reports that the Detroit Lions have signed quarterback Matthew Stafford to a six-year, $78 million contract and will select him with the top overall pick in Saturday's draft. The deal also includes $41.8 million in guaranteed money.
Some scouts and draft pundits don't feel as though Stafford is a franchise-type quarterback and they might be right. If he were to come out next year, there's a good chance he would be the third or fourth best quarterback prospect behind Sam Bradford, Colt McCoy and/or Tim Tebow.
But the bottom line is that if new GM Martin Mayhew believes that Stafford can lead his team, then he had to take him. The money is ridiculous, but unfortunately that's the way the rookie salary structure is currently set up. In the end, Mayhew couldn't be scared off by the contract demands if he felt that Stafford turn the Lions into a winner.
For fans sake, let's hope this was a football decision above all else, and not an opportunity for William Clay Ford Sr. to sell jerseys, hats and tickets. Hopefully Ford allowed Mayhew to get the player that he wanted or else this is going to be the Matt Millen era all over again. (Okay, well maybe it won't be that bad, but you get the point.)
Time will only tell if the Lions made the right choice in Stafford. Obviously there are no sure things in the draft, but maybe he can follow in the footsteps of '08 first round quarterbacks Matt Ryan and Joe Flacco. Stafford certainly has the arm strength to make all the passes at the next level and appears to have a good head on his shoulders. The Lions needed a quarterback and they got one.
Hopefully Mayhew got the right one.