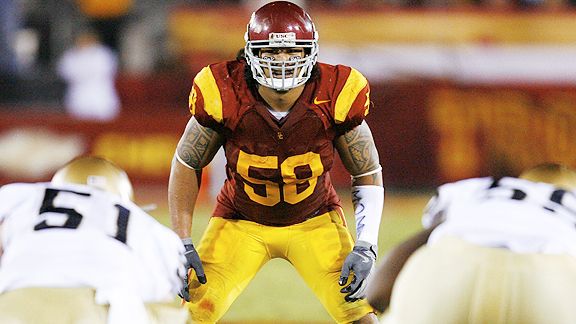 Intensity escapes the best of us. The amount of focus required to sustain a level appropriate for something as aggressive as collegiate football defense is hardly something to write off. Where does it come from? Can it be taught or learned? I'd like to hope so, though it seems a bit of a catch-22 in that in order to be intense enough to learn to be intense we must first be intense enough not to need to learn at all.
In any case, for those lucky enough to have it, raises seem to drop out of the sky and skirts appear to fly up into it. Rey Maualuga has it, and that's gonna have to suffice for now since I am unaware of every single thing he does in his personal time (probably getting that 10% increase I should have had after landing the Gibson account). He's been using that, along with his considerable speed and strength, to run roughshod over offensive lines and make tackles that look like Cthulu versus Howdy-Doody.
Well, maybe his past will give us a bit of a hint as to where this ferocious ability was acquired. Born on a military base in Oklahoma (OK, must be a lot of aggression and discipline there) to American Samoan parents, Maualuga then moved to Hawaii (you lost me). He reportedly began playing football in middle school after noticing that all the popular kids carried their pads to school. OK, that's not that intense, reminds me of the reason I listened to Dave Matthews Band for a year.
Maualuga ended up going to high school in Eureka, California, a town of just under 30,000. While there, Maualuga started some serious stat stacking. His senior year he had 96 tackles (37 for loss), and was voted to Scout.com's All-American first team among a slew of other awards and All-American honors.
OK, what's with that substantial jump? Obviously something must have happened, some earth-shattering event occurred which changed Maualuga from wanting to be popular, to be being an All-American. I have a sneaking suspicion that his ability was nothing more than latent, waiting to find the right avenue for its development. In any case, it certainly resulted in some nice benefits…
Maualuga was offered scholarships by some serious football schools (among them Michigan, LSU, and Nebraska), but decided to stay in-state and attended USC. Since then, constant comparisons to other Samoan defensive players have arisen, perhaps most aptly Junior Seau.
Mauluga's career at the University of Southern California resulted in the continuation of that school's history of outstanding defense. With limited, but notable, action in his freshman and sophomore years, Maualuga was still able to make numerous all PAC-10 first teams and was a semi-finalist for the Butkus award in 2006.
Following his junior year, speculation was rampant that he would drop out and enter the draft a year before his graduation. Leading the team in tackles with 79 as well as 6 sacks and the Rose Bowl Defensive MVP Award, it was no wonder the prospect of big pro money seemed like a likely next step.
Maualuga elected to remain for his senior year. It would appear to have been a wise decision. Though his stats are slightly lower than I would have expected (notably down to 0 sacks as opposed to 6 the year before), his performance was nonetheless stellar.
In fact, his stats don't tell the whole story. Perhaps Maualuga's greatest asset is his ability to change the game just by his presence on the field. Offensive coordinators scrambled all year to offset Maualuga's ferocious style of play, leaving other lanes open for his teammates in the process. He finished the 2009 season with a strong victory over Penn State in the Rose Bowl, and was awarded the coveted Butkus Award for defensive player of the year.
Maualuga enters the 2009 draft as a college graduate (he majored in sociology) and is generally accepted as the best inside linebacker available. His placement in the top ten may not be assured, as many teams look first to offensive or other defensive positions first (especially this year). However, if he wasn't in the top 15 it'd be a shame to see his talent valued so low, as well as an obvious error in judgment (especially for the Broncos at 12) for at least a few teams that decided to pass him over.
Obviously Maualuga's main skills lay in his game-changing ability and explosive, intense style of play. There is a flip side to this though in that his aggressiveness has gotten him into trouble by getting him out of position. Luckily, this is something requiring a bit more discipline, something Maualuga either possesses now, or at least can be taught.
It's not about how you get this aggressive I suppose. Looking back on Maualuga's career thus far, I may not be ready to hit the seminar circuit on how to land a top job or focus on your goals. But Maualuga certainly sets an example on the dangers of intensity and the benefits as well. He'll be a fun player to watch in the coming years.
Latest in Maualuga
After injuring a hamstring running the 40 at the scouting combine, many worried that he wouldn't be picked as high as was previously expected, but he is expected to make a full recovery in time for Pro Day. His discipline in the matter may in fact have been a positive in how teams viewed him, due to his past indiscretions off the field during his college career.
Career
It may be written a little too subjectively for an encyclopedic reference, but it's still has the most up to date and in-depth stats without paying any money.
News and Commentary
Why Rey Maualuga's Hamstring Injury Is a Positive for His Projected Team
Nice article investigating Maualuga's recent injury.
Rey Maualuga Scouting Report
Scouting report on Maualuga's strengths and weaknesses.
Why Rey Maualuga's Hamstring Injury Is a Positive for His Projected Team
Article/ interview about the personal side of Maualuga.

Maualuga says
On his college career
"There's nothing that I could have asked to be different. Everything happens for a reason. I appreciated and enjoyed it all."
As posted on Times-Standard.com
Sources and Links
Wikipedia.com
Draftcountdown.com
Times-Standard.com
USAToday.com
BleacherReport.com
Posted in: College Football, Fantasy Football, NFL, NFL Draft
Tags: 2009 NFL Draft, NFL Draft, Rey Maualuga, Rey Maualuga bio, Rey Maualuga Draft, Rey Maualuga profile, Trojans, USC