Will the Chiefs trade Tony Gonzalez by draft weekend?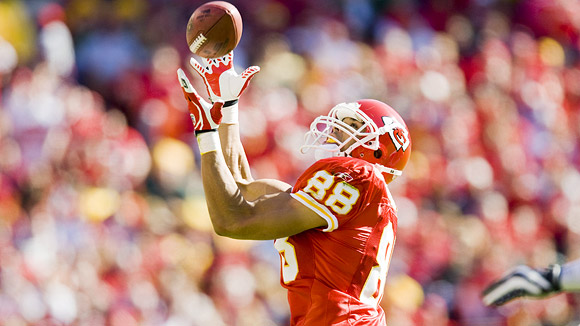 One of the more interesting situations that has been brewing for the past couple months is what the Chiefs are going to do with tight end Tony Gonzalez, who appears to desperately want out of Kansas City.
Since February of this year, several media publications have speculated that Gonzalez has made it clear that he doesn't want to be a Chief any longer. Yet every time a new rumor hits the web, Gonzo usually denies the claim within a few days.
But he failed to report to KC's voluntary minicamp last Saturday and his absence would seem to indicate that he does want out, or else why wouldn't he be spending this time getting acquainted with new quarterback Matt Cassel? Gonzo is the consummate pro, so even though the workouts are voluntary, one would think that he would want to spend as much time as possible getting in sync with Cassel.
New GM Scott Pioli has already stated that he doesn't feel obligated to trade Gonzalez this offseason, yet he might consider it if the right deal comes along this weekend during the draft. Several teams could use Gonzalez's services, most notably the Falcons (who have already been linked to Gonzo-internet rumors, although they proved to be false), Bills, Jets, Eagles and Browns.
The question now becomes, if Pioli does make Gonzalez available this weekend, will any of the previously mentioned teams be willing to give up a second or third round pick to acquire him? The Falcons might, but then again they have major holes to fill on the defensive side of the ball and GM Thomas Dimitroff values the draft above all else. The Bills might, but they could land top tight end Brandon Pettigrew with one of their two first round picks and therefore get a younger player with more long-term upside. The Jets might, but they too have more pressing holes to address and the Eagles already have Brent Celek penciled in as a starter, so adding a tight end later in the draft seems more realistic. (Philly could also have its sights set on Pettigrew at No. 21.)
The Browns might be the best trade suitor considering they have two second round picks (No. 36 and No. 50) and might acquire even more if Braylon Edwards and/or Brady Quinn are traded. But would those draft selections be better used to address other needs?
Again, Gonzo hasn't demanded a trade, but his actions this offseason would seem to indicate that he would rather play for a competitor. It'll be interesting to see if Pioli makes him available this weekend and what teams would be willing to give up to land the Pro Bowl tight end.
Update: My co-worker John Paulsen complained that I didn't include his Packers in the list of teams that could be interested in Gonzo since they attempted to trade for him last year. So, I'm mentioning them – they could be a trade possibility, but I pray it doesn't happen so Paulsen doesn't do a separate post about how I failed to mention them originally. He's vindictive that way…