TSR's running diary of March Madness: Let's play in the Sandbox
These March Madness diaries have turned into something of a tour of the sports bars of Orange County. Last Thursday it was Rudy's in Newport Beach (still my favorite), yesterday it was the Costa Mesa Hooters, and tonight it's Sandbox, a relatively new sports bar/lounge on Beach Blvd in Huntington Beach. The setup is nice – but no wifi, so this diary is going up in one fell swoop – with a number of HD flatscreens positioned around the restaurant. At night, it turns into more of a lounge/dance club for the well-dressed. Our server's name is Jessie and she's looking sharp in her little black dress. We'll see if I can get a picture of her for you.
I'm watching the games with LaRusso and his co-worker/buddy Kevin, who is from Foxboro, so he's a big Patriots, Celtics and Red Sox fan. We got into a minor spat last year over whether or not the Celtics would have beat the Lakers had Andrew Bynum been healthy – he thought a Boston win would have been a sure thing while I thought it would have thrown the series on its ear, but we're way past that now.
5:14 PM: Louisville is spanking Arizona (not a huge surprise) and Oklahoma is up eight or ten on Syracuse (a bit of a surprise). I think the Orangemen have a shot at pulling this one out, though it's not looking particularly good right now.
5:20 PM: What is the deal with these Howie Long commercials where he mocks anyone who has a truck that's not a Chevy? This probably brings back memories of high school for Howie. Is there any chance that he wasn't stuffing freshman in lockers on a regular basis? He reminds me of a meaner "Big John" from "Can't Buy Me Love." He was the one who stuck his butt out the window of a house party and farted in the face of a young Seth Green. For those that haven't seen the flick, it's one of my favorites from the '80s — McDreamy plays a McLoser who pays a girl to date him so he can be popular. Hilarity (and surprisingly touching social commentary) ensues. Anyway, I'm waiting for one of these guys in these commercials to tell Howie to go f*ck himself. Do we really need a washed up NFLer mocking a fellow truck owner because it has a convenient "man step" or gets two fewer miles to the gallon? Give me a break.
5:42 PM: So much for Syracuse. They're down 20 early in the second half and are looking like they've never played basketball before. Oklahoma is doing a nice job of passing on the interior to negate the Orangemen's zone. I bet the three days of preparation helped. This isn't a bracket killer, but it sure doesn't help. I have Gonzaga coming out of this region, so the Bulldogs' game against UNC is a lot more important to me. It's tough when there are only two games on and both are blowouts. I just told Jessie that I was blogging and she thought that I was saying that I was "black." (I'm white.) It was a weird moment. Apparently, I need to enunciate better.
6:01 PM: The Sandbox's self-proclaimed "World's Greatest Happy Hour" consists of $1 off overpriced bottles of beer, $3 well drinks and 1/2 off selected appetizers. This is the "World's Greatest Happy Hour"? Really? Shouldn't there be a Happy Hour Committee that can fine or sue restaurants when they make ridonkulous claims like this?
6:35 PM: Man, Oklahoma looked strong. The Big 12 is on a roll and if Kansas beats Michigan State, they'll have three teams in the Elite Eight. Jonny Flynn injured his back in the middle of the game and that sort of limited Syracuse's comeback ability. They made a little run, but never really got it close. After their strong run in the Big East Championship, I bet a lot of people had Syracuse in the Elite Eight (and maybe even the Final Four). Unfortunately, Jessie has left the building, but here's a picture I took of her and Christy…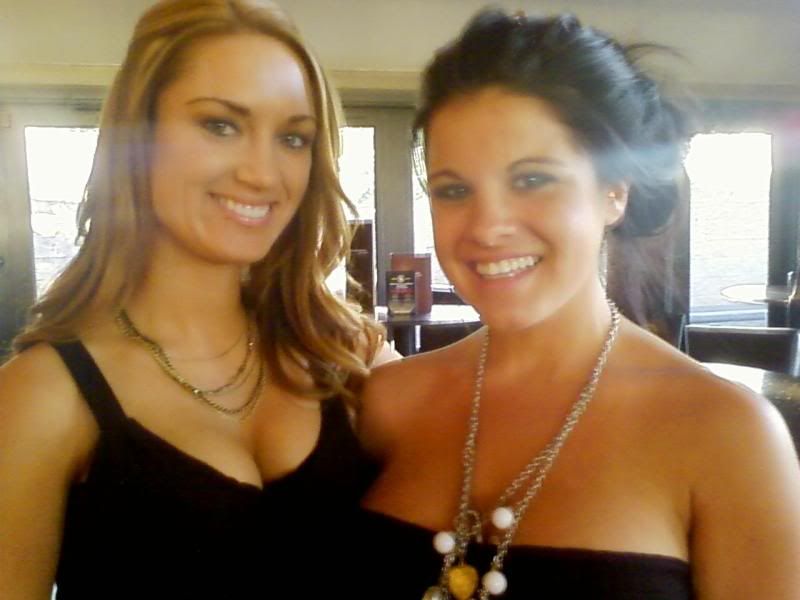 Christy and Jessie, BFFs.
6:56 PM: I asked LaRusso and Kevin what the average age is of the other patrons in the bar – it's definitely an older crowd early in the evening. LaRusso said 42 and Kevin said 44. LaRusso says is skews MUCH younger around 10 PM. By then, most of these silver foxes are probably getting ready for bed.
7:28 PM: Gonzaga is not off to a good start. Down 10 with eight minutes to play in the first half. Ty Lawson looks great (of course, since my whole bracket depends on him being injured), and Carolina is making EVERYTHING. Well, not everything but they're 15 of 23 from the field right now. Gonzaga has blown a couple of layups…not a good start.
7:44 PM: I give up. (Well, not quite yet, but I'm really getting frustrated.) North Carolina has 48 points (up 16) with four minutes to play in the first half. They are shooting out of their minds, and the Bulldogs are getting rattled. Gonzaga is starting to throw the ball all over the arena and it's leading to easy UNC points. The Zags seriously need to get this lead down to 10 by halftime. And that starts with making a bucket and getting a stop.
Meanwhile, Kansas is up seven on Michigan State. I wasn't impressed with the Spartans the three or four times I saw them play, but one thing's for sure — Tom Izzo's team is not going to give up. We'll see if the Jayhawks can hold on in the second half.
THE NEXT MORNING: Well, the battery died on my laptop and the two Sandbox power outlets I tried to use didn't work. I was running on four hours of sleep (special thanks to my son, Max, for waking full of piss and vinegar at 5:45 AM) and I just didn't have the wherewithal to finish the diary when I got home. Truthfully, I was a little depressed. My Elite Eight picks went 1-2 on the night (1-3 if you count the one pool where I had Kansas instead of WVU), so I think it's safe to say that watching the games at Sandbox was a bust. I am probably too superstitious to go back.
Amazingly, my pools are not dead yet, but I have no margin for error. Pittsburgh has to beat UConn in the final, and Oklahoma has to make the Final Four. (It actually doesn't matter if Louisville makes it.) Of the two Yahoo pools (that utilize the Scenario Generator), I can still win one outright, and could finish in the money in another. I won't be sure if I'm still alive in the 104-bracket pool, but something tells me that I'm not. Needless to say, I'm not in as good of a position as I was entering the Elite Eight the last two years.
The Sagarin 2+ point favorites only went 3-3 in the Elite Eight, so the overall record of this system is 36-11 (or 77%) this year. The last two seasons, this method has hit at an 85% clip, so it's definitely disappointing. What's worse, the team that would have picked to win it all had they been healthy (UNC) is starting to look really healthy. For as much as we hear how important the big toes are to a player's performance, I just didn't think Lawson could lead the Tar Heels to the Final Four on a bum toe. I am beginning to regret this decision.
On a more qualitative level, save for the Michigan State/Kansas game, this was a pretty boring night of action. Oklahoma, North Carolina and Louisville won by a combined 73 points. There's obviously a lot on the line (a.k.a. a trip to the Final Four) in today's action, so be sure to check out my preview of Saturday's games.
Comments Off on TSR's running diary of March Madness: Let's play in the Sandbox

Posted in: College Basketball, March Madness
Tags: Arizona Wildcats, Gonzaga Bulldogs, Kansas Jayhawks, March Madness, Michigan State Spartans, NCAA tournament, NCAA tourney talk, North Carolina Tar Heels, Oklahoma Sooners, Syracuse Orange, Ty Lawson, Ty Lawson toe