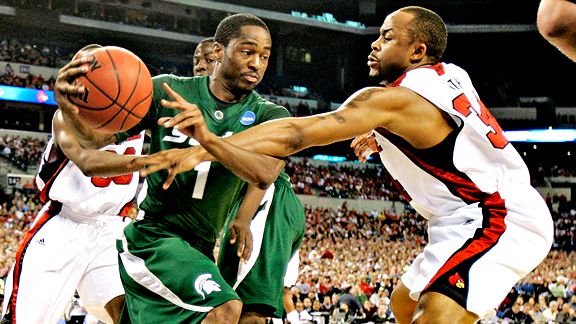 The Final Four is set. Heading into the Sweet Sixteen, it looked like we might end up with three or four Big East teams heading to Detroit, but Syracuse was blown out by Oklahoma on Friday and Louisville was upended by Michigan State yesterday. So while the Big East has two teams (UConn and Villanova), both the Big Ten (MSU) and the ACC (North Carolina) are represented.
What do these four teams have in common?
They all have a good point guard — North Carolina's Ty Lawson, Villanova's Scottie Reynolds, UConn's A.J. Price and Michigan State's Kalin Lucas.
It's often said that guard play is a key component to NCAA success, and this year's Final Four supports that thinking. Louisville, Missouri and Oklahoma all had some backcourt issues throughout the season (and the tournament) and it's no coincidence that they ultimately lost to teams with a great point guard.
Let's take a closer look at each of Saturday's games…
UCONN VS. MICHIGAN STATE
Tip-Off: 6:07 PM
Sagarin Ratings: UConn (94.40), Michigan State (89.39)
Line: UConn -4
With Hasheem Thabeet, Jeff Adrien and Stanley Robinson, UConn might have the most imposing front line in the country. Thabeet averages 4.3 blocks per game, while Adrien and Robinson are two strong forwards who can score inside and rebound like crazy. A.J. Price anchors the backcourt, but the lightning-quick freshman Kemba Walker is the reason the Huskies survived a scare against Missouri. The Huskies are deep and talented, and other than a few minutes against Purdue and Mizzou, they have looked dominant and focused.
The wild card with this UConn team is how they handle the recruiting scandal of Nate Miles. It's going to be interesting to see if the media presses the issue or if Jim Calhoun is successful in pushing off any further inquiry until after the tournament. Will the press take "no comment" as an answer? When a program is under attack, there is usually a "circle the wagons" mentality within a locker room, and depending on the makeup of the roster, it can bring a group of players even closer together.
On the flip side, the NCAA tournament has been a pleasure for the Michigan State Spartans. I didn't think they had the firepower to make it to the Elite Eight, much less the Final Four, but this team has something that many others don't — chemistry. Every player knows his role but doesn't shy away when he is asked to make a play. They have the Big Ten POY in Kalin Lucas and group of guys willing to the little things like defend and rebound. The Spartans are an interesting matchup for UConn because of 6'10" center Goran Suton. Since he can hit the long ball, he should be able to pull Hasheem Thabeet out away from the basket, limiting his shot blocking. UConn may counter by putting Robinson or Adrien on Suton and letting Thabeet defend one of Michigan State's forwards that isn't a good shooter like Raymar Morgan or Draymond Green.
The Spartans are particularly adept at pulling up in the lane and hitting the 8- to 15-foot jumper which will be crucial if they hope to score consistently on the Huskies. It's nearly impossible to take it to the rim when Thabeet is in the game, but the middle of the lane is usually pretty open since the Husky defenders are taught to feed their man to Thabeet. Defensively, the Spartans have shown the grit and effort necessary to stay with more talented foes, so Michigan State should be able to keep this one close. I don't like the line, and I think UConn will ultimately triumph, but this has a good chance to be a game that is nip and tuck down the stretch. It doesn't hurt that the Spartans will be playing about 75 miles from East Lansing. I'd expect a decent home crowd, though it's tough to get any kind of home court advantage at the Final Four.