Elite Eight Preview & Picks: UConn/Mizzou, Pitt/Nova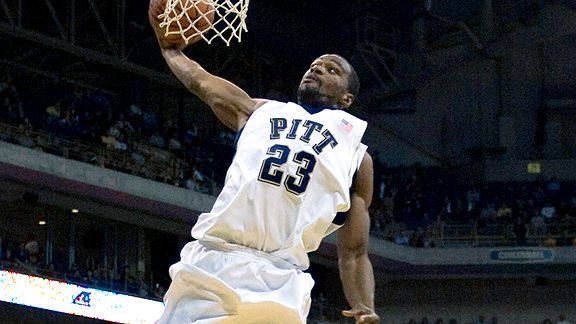 #3-seed Missouri vs. #1-seed UConn
Tip-Off: 4:40 PM ET
Sagarin Ratings: UConn (94.21), Mizzou (91.04)
Line: UConn -5.5
Missouri's strength is their forward duo of Leo Lyons and DeMarre Carroll, but guard J.T. Tiller scored a season-high 23 points against Memphis. Mizzou got Memphis to play at its pace, but I don't think that the Tigers are going to find the Huskies as willing to run with them. UConn plays its best defense when Hasheem Thabeet is planted firmly in the lane. They don't foul (Memphis sent Mizzou to the line 45 times on Thursday) and they are pretty efficient offensively, which one of the flaws of John Calipari's team. If UConn gets into an up-and-down affair, Thabeet is far more likely to find himself in sitting on the bench in foul trouble. I'd expect UConn to push when they have the advantage but otherwise slow the tempo down. Mizzou's run has been great, but UConn is playing as well as anyone in the tournament and given the Huskies' balance of talent, that's a pretty scary proposition. But 5.5 points is a lot to give the Tigers, who are playing the best basketball of their season right now. I think I'd stay away from this one wager-wise, but UConn is my pick to win it.
#3-seed Villanova vs. #1-seed Pittsburgh
Tip-Off: 7:05 PM ET
Sagarin Ratings: Pittsburgh (91.97), Villanova (89.59)
Line: Pittsburgh -2
I picked Pitt to win the whole thing and every game they love to scare the ever-loving crap out of me. Needless to say, I'm not as optimistic about the Panthers making it to the Final Four much less win the whole thing. The one thing that they're doing better than anyone else this in this tournament is keeping their poise in the clutch. They have three of the best players in the college game in Sam Young, DeJuan Blair and Levance Fields, but they aren't getting much offensive help from any of their other players. In each of the three tournament games, they've kept it in about second or third gear for much of the game before flipping a switch in the waning minutes. This is a dangerous game to be playing, especially against a Villanova squad that looks so good right now. The Wildcats have blown out two pretty good teams (UCLA and Duke) and they beat Pitt by 10 at home in the two teams' only meeting this season. In that game, Blair was saddled with foul trouble, so Pitt should fare better if he's able to play his usual minutes. So with the Panthers favored by two, we have a team that isn't playing very well (but is winning) favored by a bucket over a team that is as hot as a pistol and already won the previous meeting. If I were a betting man and you put a gun to my head, I think I'd take the Wildcats and the points, though if the game is tied or within one with two minutes to play, Pitt probably covers (if that makes any sense). The thing that really worries me about laying any money on Nova is the fact that Panthers have already lost to the Wildcats and they know they have to take them seriously. I'd stay away from this one too. My brain is saying Nova and my gut is saying Pitt, but my pick is Pitt. I think they play better and win a tight one.