2009 Fantasy Baseball Preview: Outfielders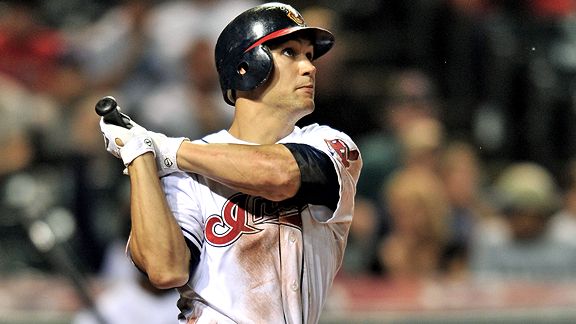 All 2009 Fantasy Articles | 2009 Position Rankings
The great thing about addressing your outfielder positions on draft day is that there are so many to choose from that chances are if you don't like one facet about a certain player (i.e. age, inexperience, he plays for the Red Sox and you're a Yankees fan, etc.), you can move on to one of the many other choices available.
Conversely, with so many players to choose from, you're liable to stick your head in an oven in order to avoid having to decide between which outfielders will explode and which will wind up on your league's wavier wire after making you suffer for the first couple months of the season.
The nice thing about having so many choices for outfielders is that you can draft certain players to fill certain needs. As your roster starts to take shape on draft day, if you desire more power, then there are plenty of outfielders that can address that specific need. If your team is lacking speed, there are outfielders that you can target to rack up stolen bases. And if you were able to draft for both speed and power in previous rounds, then adding a couple outfielders that can hit for average will only help you in the long run.
That said, if you're smart, you'll pinpoint the outfielders that can do it all. Sure, they might not excel in any one area, but over the course of the season if you can land a guy that can spread out his production in home runs, RBIs, runs and average, it will do wonders for your team in the end. After all, balance is key in fantasy baseball and after you land your studs early on, you're going to need to complete your roster with players that can produce in all areas.
With a huge pool of outfielders to choose from, there are plenty of players that will give you the balance you'll need all season. We've picked out a few below (that you'll find in both middle and late rounds), so take a look and keep an eye on them come draft day. And for the sake of not insulting your intelligence, we didn't list any of the outfielders in our top 15 (see the rankings below). There's no sense waxing poetically about Ryan Braun, Grady Sizemore and Matt Holliday when you already know what they can do.
Alex Rios, Toronto Blue Jays
Rios flashed power in 2007 and speed in 2008 and if he can put everything together this season, 2009 could be a very good year fantasy-wise for the Blue Jay right fielder. If Rios falls into your lap after the top 15 outfielders come of the board, you probably won't be disappointed. He should close in on a .290 batting average, 20 home runs, 100 runs and 90 RBI, all while stealing 25 bases. When we talk about finding balance in outfielders, Rios is exactly what we're talking about.
Vladimir Guerrero, Los Angeles Angels
Vlad might not be the player he was a couple of years ago, but don't be the one that passes on him because you're worried about his age. He'll still hit over .300 and chip in 25-plus home runs, 100-plus RBIs and 85-plus runs. He won't steal any bases, but he doesn't strike out much and he'll likely finish with a slugging percentage around .530.
Magglio Ordonez, Detroit Tigers
Ordonez is another player that you might pass up due to age, but don't forget that he hits in the same lineup that features Miguel Cabrera, Curtis Granderson and Gary Sheffield so he still has a ton of value fantasy-wise. Similar to Guerrero's production, Mags will hit over .300, drive in over 100 runs and finish with 20-25 home runs if he can stay healthy. And much like Vlad, Ordonez won't give you anything in the stolen base department but he'll finish with a slugging percentage in the .520-range and score 80-plus runs.
Shane Victorino, Philadelphia Phillies
If this guy can stay healthy, he's going to be a hell of a fantasy player and could be in store for a solid season. Victorino lacks elite power, but he'll still hit 10-plus dingers, score 95-plus runs and hit in the .280-range. He won't knock in many runs, but he'll make up for it by stealing 35-plus bases and add 7-plus triples.
Jermaine Dye, Chicago White Sox
If Dye comes close to what he did last year (.292-34-96-96), then you'll be more than happy to add him as your second outfielder. Dye loves hitting at U.S. Cellular and while he won't hit for average like Vlad or Mags will, he'll produce seven to 10 more dingers. The only disadvantage of drafting him is that he obviously doesn't have much upside. He is what he is at this point in his career, so don't expect better than what he produced last year, which certainly isn't bad by any means but there's not much to get excited about either.
Vernon Wells, Toronto Blue Jays
By this point, everyone knows the book on Wells; if he can stay healthy, he has the capability of being a top 20 pick, but you can draft him as a top 30 pick. If avoids the injury bug, he'll close in on .285, hit 20-plus home runs and score 75-plus runs. He doesn't offer much in the RBI category, but he's always knocking on the door of a huge season and worth a look if other owners in your league avoid him like the plague on draft day.
J.D. Drew, Boston Red Sox
This guy terrifies us, as well as he should terrify you. But there's no doubt he can hit and in that lineup, Drew will have the opportunity to knock in close to 80 RBIs, score 80-plus runs and hit close to 20 dingers. He'll also sniff .285 and chip in 30-plus doubles. The only problem, of course, is that he's always a stubbed toe away from landing on the DL and he's already complaining about his back. Be afraid…be very afraid. Still, there's no doubt Drew offers a ton of value late in your draft.
Hideki Matsui, New York Yankees
There will probably be a point during your draft when you see Matsui's name staring you in the face and you might be tempted to pass. Depending on what round it is and how your draft has shaken out to that point, Matsui could be a great low risk, high reward player. He's coming off knee surgery, but he also will see plenty of time at DH this season with the Yankees, which hopefully will keep him healthier. If he does stay healthy throughout, there's no reason he can't hit .300 with 15-plus home runs and chip in 80 RBI and 80 runs.
Xavier Nady, New York Yankees
We'll give you the bad news first; Nady plays in an awfully crowded outfield in New York and you have to be concerned about guys like Melky Cabrera stealing his at bats. But the good news is that he's in a contract year and could flourish hitting in a stacked lineup. (Although A-Rod is set to miss up to 10 weeks so that certainly doesn't help.) Nady will likely close in on .280, hit 20-25 home runs and score 70-plus runs. You could do a lot worse late in the draft.
Fred Lewis, San Francisco Giants
Lewis is a sleeper and could be a great value late in your draft following a breakout year of sorts in 2008. He'll move into the third spot in the lineup sandwiched between Edgar Renteria and Benglie Molina, thus having the opportunity to score close to 90 runs while sniffing a .280 batting average. Unfortunately he probably won't rack up a ton of RBIs, but he'll more than make up for it with 20-25 stolen bases and he'll even chip in 10-15 home runs and 10 triples. Not bad for a late round pick.
1. Grady Sizemore, CLE
2. Ryan Braun, MIL
3. Carlos Beltran, NYM
4. Carlos Quentin, CHW
5. Alfonso Soriano, CHC
6. Carlos Lee, HOU
7. Josh Hamilton, TEX
8. B.J. Upton, TB
9. Carl Crawford, TB
10. Matt Holliday, OAK
11. Ichiro Suzuki, SEA
12. Nick Markakis, OAK
13. Matt Kemp, LAD
14. Manny Ramirez, LAD
15. Jason Bay, BOS
16. Alex Rios, TOR
17. Shane Victorino, PHI
18. Nate McLouth, PIT
19. Vladimir Guerrero, LAA
20. Jacoby Ellsbury, BOS
21. Curtis Granderson, DET
22. Magglio Ordonez, DET
23. Adam Dunn, WAS
24. Jermaine Dye, CHW
25. Corey Hart, MIL
26. Bobby Abreu, LAA
27. Ryan Ludwick,
28. Jay Bruce, CIN
29. Vernon Wells, TOR
30. Raul Ibanez, PHI
31. Johnny Damon, NYY
32. Hunter Pence, HOU
33. Brad Hawpe, COL
34. Torii Hunter, LAA
35. Chris Young, ARI
36. Milton Bradley, CHC
37. Lastings Milledge, WAS
38. Andre Ethier, LAD
39. Pat Burrell, TB
40. Jayson Werth, PHI
41. Conor Jackson, ARI
42. Xavier Nady, NYY
43. Nelson Cruz, TEX
44. Justin Upton, ARI
45. Fred Lewis, SF
46. Mark DeRosa, CLE
47. J.D. Drew, BOS
48. Coco Crisp, KC
49. Rick Ankiel, STL
50. Adam Jones, BAL
51. Shin-Soo Choo, CLE
52. Carlos Gomez, MIN
53. Cameron Maybin, FLA
54. Hideki Matsui, NYY
55. Willy Taveras, CIN
56. Denard Span, MIN
57. Elijah Dukes, WAS
58. Adam Lind, TOR
59. Mike Cameron, MIL
60. Juan Pierre, LAD
61. Jason Kubel, MIN
62. Jack Cust, OAK
63. Randy Winn, SF
64. Jeremy Hermida, FLA
65. Felipe Lopez, ARI
66. Travis Snider, TOR
67. Mat LaPorta, CLE
68. Chase Headley, SD
69. Jose Guillen, KC
70. Michael Bourn, HOU
71. David DeJesus, KC
72. Gary Sheffield, DET
73. Ryan Spillborghs, COL
74. Ryan Church, NYM
75. Ty Wigginton, BAL
76. Aaron Rowand, SF
77. Brian Giles, SD
78. Eric Byrnes, ARI
79. Michael Cuddyer, MIN
80. Ken Griffey, SEA
Posted in: Fantasy Baseball, MLB
Tags: Adam Dunn, Alex Rios, Alfonso Soriano, B.J. Upton, Billy Butler, Carl Crawford, Carlos Beltran, Carlos Lee, Carlos Quentin, Corey Hart, Curtis Granderson, Grady Sizemore, Ichiro Suzuki, Jacoby Ellsbury, Jason Bay, Jermaine Dye, Josh Hamilton, Magglio Ordonez, Manny Ramirez, Matt Holliday, Matt Kemp, Nate McLouth, Nick Markakis, Ryan Braun, Shane Victorino, Vladimir Guerrero