UNC beats Duke to clinch ACC regular season title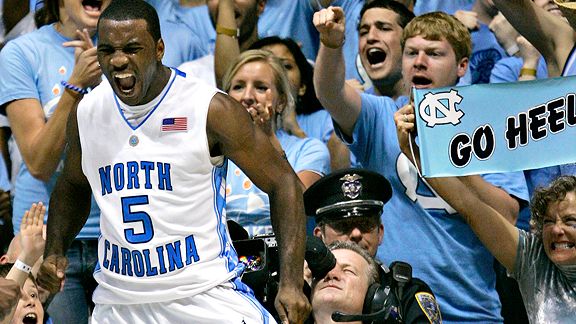 It was nip and tuck most of the way, but the Tar Heels got it together late in the second half to pull away over arch rival Duke, 79-71. North Carolina has almost a two-point lead over the next-best team in Jeff Sagarin's computer rankings (which is the main way that I fill out my bracket), but I just don't like this team to win it all. They're sloppy with the ball, have poor spacing on offense and they missed a ton of free throws. But they have so much talent that when the game is tight in the second half, they always seem to be able to put together a run to put the game away. Really, they could win it all or they could lose in the second round to an eight- or nine-seed that plays a good, clean game.
Five Tar Heels scored in double figures, led by Tyler Hansbrough's 17 points. Conversely, Duke was very content to walk the ball up and run its half court offense, which put the ball into the hands of Gerald Henderson, Jon Scheyer and Kyle Singler, and allowed them to go to work. Coach K really shortened his bench for this game — just three reserves played a total of 19 minutes (and they failed to score a single point).
The win should seal a #1 seed for North Carolina, and barring Duke winning the ACC tournament (coupled with an early round exit by Oklahoma or UConn), the Blue Devils are probably looking at a #2 or #3 seed. Check back tomorrow for a preview of all the major conference tournaments.