Five Big Ten teams yet to punch a ticket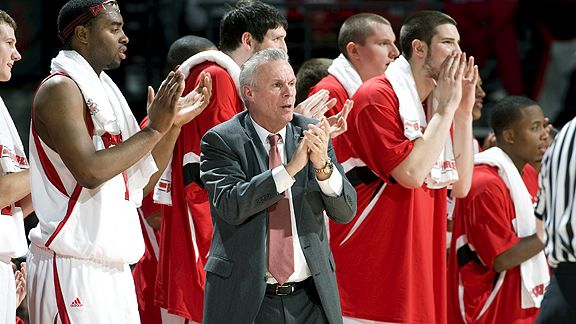 After Michigan State, Purdue and Illinois, there are five Big Ten teams with a legitimate shot with a postseason berth. Right now, ESPN's Joe Lunardi has the conference getting six NCAA berths. (The aforementioned three, plus Wisconsin, Ohio State and Penn State.) Both Michigan and Minnesota are listed amongst the first four teams out. This means that a lot can change over the next couple of weeks.
My former coach, Bo Ryan, has his Badgers in the best position of all the Big Ten bubble teams. Lunardi has Wisconsin as a #9 seed, so they are relatively safe, though if they lose at Minnesota and at home against Indiana, they'll be in a more precarious position. They are just 2-7 against Top 25 opponents, but they are a combined 5-1 against the other four Big Ten bubble teams. Plus, they have won six of their last seven, so they are playing pretty well right now. A pair of wins to close the season will guarantee a spot. A loss against Minnesota and a win against Indiana might mean that the Badgers still have some work to do in the Big Ten tourney.
Lunardi has Ohio State as a #10 seed and with games against Iowa and Northwestern remaining, the Buckeyes should finish at 10-8 in the conference. If they finish 9-9, their situation may be a little dicey heading into the conference tournament. They are 5-6 against Top 25 teams, though they don't really have a marquee win unless you count their victory over #13 Purdue on Feb. 3. A pair of wins against the Hawkeyes and Wildcats should make Ohio State a safe bet for the tourney. If not, they'll have to win a game or two in the tourney to get off the bubble.
ESPN projects Penn State to be a 12-seed, so they are the last Big Ten team to make the NCAA tourney. A win Thursday against #23 Illinois would probably seal the deal. If they lose to the Illini and beat Iowa, they probably will need to win a game or two in the Big Ten tourney to punch their ticket.
Minnesota has an interesting finish to their regular season schedule. They host both the Badgers and the Wolverines this week and two wins would go a long way towards getting them back in the hunt. Also working for the Gophers is their Dec. 20 win over then-#9 Louisiville. A pair of wins plus a win or two in the conference tourney should get Minnesota off the bubble.
Michigan looks to be the longest shot for an NCAA berth. They are just 8-9 in conference and desperately need a win at Minnesota to keep their postseason hopes alive. If they can beat the Gophers and then make a little run in the Big Ten tournament, the Wolverines could quickly get back in the discussion, thanks to wins over then-#4 UCLA in November, then-#4 Duke in December, a tough loss against UConn in February and a recent win against #16 Purdue. However, it's doubtful that the selection committee would give the Wolverines the nod if they finish below .500 in conference, so the Minnesota game is pretty much a must-win.