Offseason Blueprint: Oakland Raiders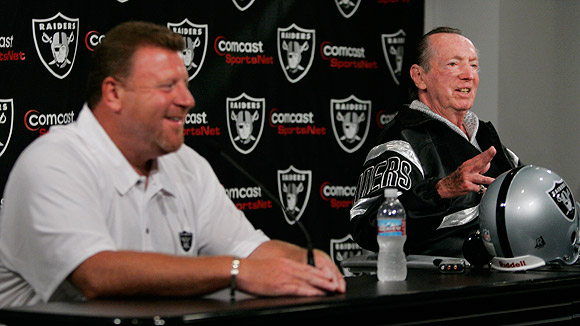 Notable Free Agents: Nnamdi Asomugha (re-signed), CB; Shane Lechler (re-signed), P; Chris Johnson (re-signed), CB; Jake Grove, C; Cooper Carlisle, G.
Projected 2009 Cap Space: $4,000,000
Draft Order: 7
Top Needs: Not unlike other teams selecting at the top of the draft, the Raiders are mostly in need of offensive line help. Defensive line, wide receiver and linebacker could also be addressed.
Offseason Outlook: The Raiders' top priority was to ensure that cornerback Nnamdi Asomugha didn't hit the open market, and they accomplished that by inking him to a new three-year, $45 million contract. Asomugha's deal is complex and you can read more details here, but the bottom line is that he'll once again anchor the Raiders' secondary in 2009.
Al Davis also re-signed punter Shane Lechler to a four-year, $16 million contract. That might not be big news to some, but considering how much the Raiders punt during the regular season, re-signing Lechler was a wise move.
The biggest challenge Davis now faces is how will he free up enough cap space to address other needs. The Raiders were sitting at $4 million under the cap before the re-signings of Asomugha and Lechler. Are cuts coming? If so, who will be shown the door?
One name that has recently come up in trade speculation is defensive end Derrick Burgess, who the Raiders are rumored to be shopping. Burgess becomes a free agent after the 2009 season so it would make sense that Oakland would trade him now in order to gain compensation. If they were able to trade him, they would free up $3.5 million in cap space, which isn't a huge amount but it would help.
Even if they were able to free up some cap space, don't expect Davis to go hog wild this offseason, although it won't be because he doesn't want to. Davis is always willing to spend big for talent, but the cap is going to hamstring him this year. Instead, expect the Raiders to make a push to re-sign center Jake Grove and then focus on mid-level free agents and the draft.
Oakland head coach Tom Cable is apparently confident in Mario Henderson as his starting left tackle again next season. Robert Gallery is entrenched at the left guard position and assuming the team can re-sign Grove, center will be taken care of as well. But the entire right side of the line needs to be addressed.
The Raiders are in prime position to take one of the top offensive tackle prospects that'll be available in April. Virginia's Eugene Monroe and Baylor's Jason Smith are regarded as the top tackle prospects, but they might not fall to Oakland at No. 7. Instead, Ole Miss offensive tackle Michael Oher could fall right into the Raiders' laps at that spot. Monroe and Smith are getting more attention, but Oher is a fantastic athlete who has the size, strength and athleticism that all teams covet on the offensive line.
Assuming Davis goes with Oher in the first round, he then could address the right guard position in the second or third round. Oregon State's Andy Levitre, Cincinnati's Trevor Canfield and Wisconsin's Kraig Urbik are just three guard prospects that could be available in the second or third round.
Of course, this is assuming that Davis decides to rebuild the offensive line, which would be wise considering the money he's already spent on quarterback JaMarcus Russell and running back Darren McFadden. Why spend millions of dollars on Russell and McFadden if you're not going to protect them? But again, this is Davis we're talking about – he loves speed and flash. That said, Texas Tech wide receiver Michael Crabtree and Missouri wideout Jeremy Maclin will also be considered at No. 7. (It should also be noted that Oakland is also considering cutting Ronald Curry and bringing back Jerry Porter, who spent last year in Jacksonville.)
Defensively, the Raiders re-signed cornerback Chris Johnson, who filled in admirably once bust DeAngelo Hall was released in midseason. Rumor has it that Michael Huff will be cut this offseason, which means Rashad Branch and Hiram Eugene will be given a chance to start at free safety, although Branch would need to be re-signed.
If the Raiders do trade Burgess, they may consider selecting Texas's Brian Orakpo, who is regarded as the best defensive end prospect in the draft. If they keep Burgess, upgrading the defensive tackle position will need to be a priority. A top dollar free agent like Albert Haynesworth is out of the question, but Missouri's Evander Hood and Auburn's Sen'Derrick Marks will be available in the second round. If they're lucky, maybe Ole Miss's Peria Jerry will slip to the second. But that's unlikely.