Athlete Profile: Everette Brown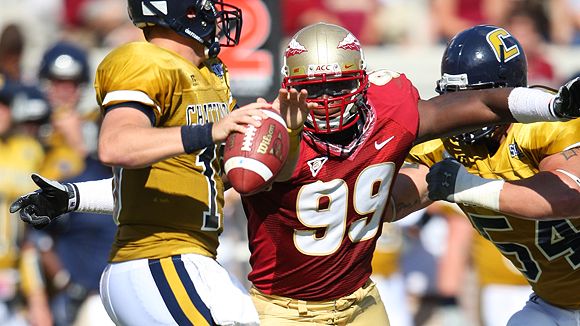 As a society, we're always trying out the next new thing; well, not so much "new" as a combination of the old stuff we already like. They don't always work out (Mustardayonnaise? Sparks Malt Beverage?), but we can get a great hybrid off the line every once in the while.
Most people get a look at Everette Brown's size and speed and see what could be the first true defensive end/ linebacker to make it in the NFL. Take something more than a glance at the man, and you'll see a hybrid of a different kind: a top-tier athlete who graduated early and still found time to do endless volunteer work. That kind of work ethic is going to be what makes him something special in the pros, and it's that same thing that has gotten him this far already.
So where did he start out? Well, Brown was born in the small town of Stantonsburg, NC, and went to Beddingfield High School. While there, Brown started compiling some serious numbers and by his senior year he was the top defensive lineman in North Carolina, the third weakside defensive end in the country, and was ranked 78th in the nation overall. His senior year alone, Brown has 16 sacks and 120 tackles. But rather than rest on the bench, Brown iron-manned it as a tight end, catching 40 passes for 770 yards with 10 touchdowns.