2009 NBA Free Agency Preview: The top restricted free agents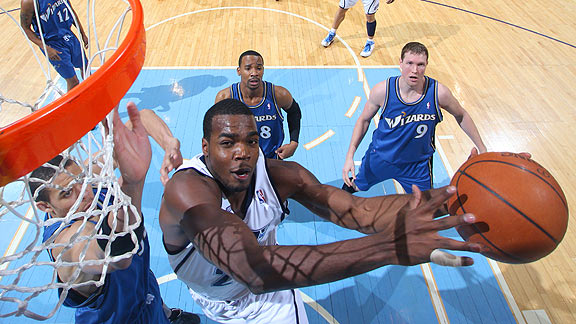 Yesterday, I ranked the top unrestricted free agents of 2009, but now it's time to look at this summer's crop of restricted free agents (RFA). Teams can sign an RFA to an offer sheet, then his team has seven days to match that offer to retain him. If the player doesn't sign an offer sheet and can't come to terms on a new contract with his current team, then he will play for a year for the qualifying offer and then become an unrestricted free agent the following summer.
For each player, I'll provide his position, age, Player Efficiency Rating (PER) and an estimate of what kind of contract he's likely to sign. They're ranked in order of total value, which is based on overall talent, age, injury history and cost.
1. Paul Millsap, PF (24)
PER: 18.71
In his third year, this former second round pick had the best season of his career. He averaged 13.5 points and 8.6 rebounds, while shooting better than 53% from the field. While Carlos Boozer was out in December and January, the Jazz got a preview of what this kid can do when he gets starter's minutes. He was a 17/11 guy during those two months, but the Jazz only went 11-13 in games in which Millsap played during that span. His camp expects a deal similar to the one David Lee is asking for, so something in the $10 million per season range. Is he worth it? Probably. And from the sound of it, the Jazz plan on offering him a deal that will keep him from testing the market. If he does explore his options, it may pay off as the Thunder and Pistons are rumored to have interest.
Value: $9.5 – $10.5 million per year
2. David Lee, PF (26)
PER: 19.07
GM Donnie Walsh said that the Knicks' picking Jordan Hill in this year's draft has nothing to do with Lee, but the two play the same position, so of course it's going to have an effect on how the Knicks and Lee each view their relationship. The other issue is that two of the Knicks' targets in 2010 are Chris Bosh and Amare Stoudemire might also play the same position as Lee, though Mike D'Antoni would likely play either at center, allowing Lee to play power forward. He gets most of his points off the glass, so he'd be a good fit with either of those guys. The Knicks are projected to have about $35 million in cap space heading into the summer of 2010 and whatever deal they sign Lee to will cut into that. If they want to keep Lee and sign two big-name free agents, then they're going to have to rid themselves of either Jared Jeffries or Eddy Curry prior to 2010. I like Lee, but he's not a guy that you can give the ball to on the block and expect him to score, and that limits his value somewhat as a big man. The Thunder, Kings, Grizzlies, Raptors and Pistons could all make a serious run at Lee, though anytime a team tries to poach a restricted free agent, it's a delicate balance between offering him enough to convince the other team to let him go, while getting a reasonable deal at the same time.
Value: $9.0 – $10.0 million per year.
3. Ramon Sessions, PG (23)
PER: 17.65
Regular readers know that I love this guy. I'm a Bucks fan so I see more of their games than the average NBA fan. Trust me — Sessions is flying under the radar. Normally, I think the Bucks would match any offer up to the mid-level exception, but now that they drafted Brandon Jennings, they may deem it too much to pay for a backup point guard. But Sessions is no backup. Jennings is a few years away from being a dominant player, and there's no guarantee he'll develop, so the Bucks would be wise to keep the 23-year-old Sessions around. He had the 13th-highest PER amongst all point guards, and the 5th-highest amongst all point guards under the age of 26. Moreover, his +/- numbers are the best on the team for anyone who played more than 1200 minutes. I definitely think that's worth the mid-level. The Grizzlies, Hawks and Blazers might be willing to pay more, who knows.
Value: $5.5 – $6.5 million per year
4. Marvin Williams, F (23)
PER: 16.04
Williams is just 23, and averaged around 14/6 the last two seasons. He really improved his three point shot last year, nailing about 35% of his attempts (after shooting a woeful 10% the year before). His PER took a nice jump from 14.74 to 16.04, so he's definitely developing, but what's his upside? He's a pretty good defender and he's really young. In fact, he's the complete package, but isn't necessarily destined to be a star. He's slated to make $7.3 million this season, and should probably sign an extension in that ballpark. The Kings, Raptors, T-Wolves and Blazers could use some help at small forward, so there may be a market if he and the Hawks can't come to terms.
Value: $7.0 – $8.0 million per year
5. Josh Childress, SF (26)
PER: 18.00 (2007-08 season)
Childress, who spent the last year playing in Greece, could return to the NBA as a restricted free agent, but the general consensus is that he's going to stay overseas. He's a very good all-around player, but doesn't have the upside of his former teammate, Marvin Williams, so this summer he's probably a MLE-type player.
Value: $5.5 – $6.5 million per year
6. Charlie Villanueva, F (24)
PER: 18.64
Charlie V performed admirably when Michael Redd and Andrew Bogut went out with injuries. In 47 games as a starting forward, he averaged 17.7 points and 7.3 rebounds, and shot 35% from long range. He's a perimeter oriented power forward — sort of a poor man's Rashard Lewis. This makes him an appealing option for the Cavs, who could use a guy like Villanueva to match up with Orlando. In fact, due to fiscal constraints, the Bucks may not even make the qualifying offer of $4.6 million that's required to make Villanueva a restricted free agent. If they don't, they'll lose him with no compensation. He doesn't play much defense, so I think someone will offer him the mid-level.
Value: $5.5 – $6.5 million per year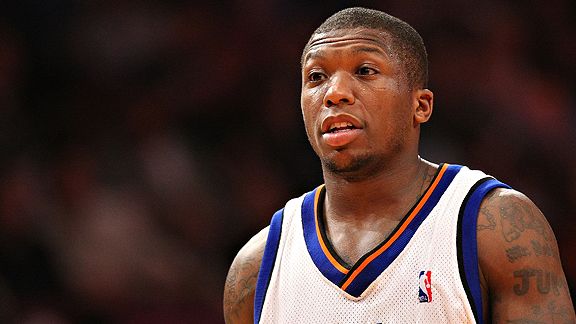 7. Nate Robinson, G (25)
PER: 18.95
At just 5'9″, it's not clear that Robinson is suited for a starting role. He's a terrific scorer (17.1 ppg last season), but he shoots less than 44% from the field and less than 33% from long range. Even so, he had the 8th-highest PER in the league amongst point guards and set a career high with 4.1 assists per game. He's not a pure point guard, which means he might not be long for New York — Mike D'Antoni likes a pass-first point guard running the show. Still, his terrific offensive skills and high energy make him a valuable reserve who can finish games given the right matchup. I think the MLE is a possibility.
Value: $5.0 – $6.0 million per year
8. Ray Felton, G (25)
PER: 13.80
Felton has been a 14/7 guy the last three seasons, but his shooting (41% from the field, 29% from long range) is fairly brutal. He's a pretty good playmaker and his overall efficiency would benefit if he focused more on distribution than scoring. He spent much of last season playing out of position alongside D.J. Augustin in the backcourt, but given the right situation and the right guidance, he has the potential to be a very good point guard. His rep is bigger than his game right now, which might lead to a wake up call when it's time to talk turkey.
Value: $4.5 – $5.5 million per year
9. Glen Davis, F (23)
PER: 10.77
Big Baby's regular season efficiency was nothing to write home about but in 16 games a starter, he averaged 12.6 points and 5.6 rebounds, while shooting 48% from the field. With Kevin Garnett out for the postseason, David really stepped up his scoring, averaging 15.8 points and 5.6 rebounds in the playoffs. At 6'9″ and 289 lbs, I'd like to see better rebound numbers. He's strong as an ox, but isn't terribly quick and has short arms. (Hence, the nickname.) Is he a starter-quality power forward? Right now, I don't think so. His regular season PER (10.77) is well below average, and one good run in the playoffs does not a career make. Davis peaked at the right time however, as some team will likely reward his efforts with a nice contract. I think it will fall below the MLE, but you never know.
Value: $4.0 – $5.0 million per year
10. Marcin Gortat, C (25)
PER: 17.04
Gortat is a beefy center, but doesn't get much run playing behind Dwight Howard in Orlando. He's pretty skilled in the post, though he gets most of his points on dunks since there is so much attention paid to the other Magic players. He's a fringe starter at center, and that makes him a pretty valuable commodity. The Knicks are supposedly interested, so I wouldn't be surprised if he signs a mid-level deal.
Value: $5.0 million – $6.0 million per year
Other notables: Channing Frye, Linas Kleiza, Leon Powe, Jarrett Jack, Shannon Brown, Hakim Warrick, Jamario Moon
Related content:
The Top Unrestricted Free Agents of 2009
Which NBA teams will have cap space this summer?
The Top 10 NBA Free Agents of 2010
Follow the Scores Report editors on Twitter @TheScoresReport. You can also follow TSR editor Gerardo Orlando @clevelandteams and @bullzeyedotcom, and you can follow TSR editor Anthony Stalter @AnthonyStalter.
Picture of the Day
Enjoy a daily photo from Bullz-Eye.com of one of their beautiful models.
Improve your game today!
You've got to brush up on your game to get the girl! Find your hookups with this online dating guide.
Sexy Girls and Cars
Check out this slideshow of hot babes and cool cars.
Posted in: NBA, News, Rumors & Gossip
Tags: 2009 NBA free agency, 2009 NBA free agency rumors, 2009 NBA free agents, 2009 NBA offseason, 2009 NBA restricted free agents, Charlie Villanueva, Charlie Villanueva free agent, David Lee, David Lee free agent, Glen Davis, Glen Davis free agent, John Paulsen, Josh Childress, Josh Childress free agent, Marcin Gortat, Marcin Gortat free agent, Marvin Williams, Marvin Williams free agent, Nate Robinson, Nate Robinson free agent, NBA free agency, NBA free agency rumors, NBA free agents, NBA offseason, NBA rumors, Paul Millsap, Paul Millsap free agent, Ramon Sessions, Ramon Sessions free agent, Ray Felton, Ray Felton free agent