Top 10 Impact Defensive Rookies for the 2009 NFL Season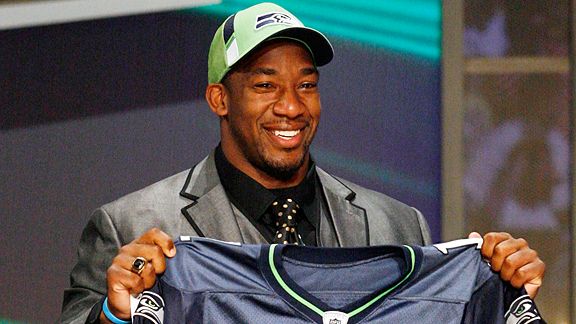 My colleague (and inspiration according to him) John Paulsen did a great job of highlighting the impact that this year's offensive rookie class could have in terms of fantasy football, so I thought it would only be appropriate to show some love to the defensive rooks.
I've ranked the 10 rookies who I feel could make the biggest impact for their teams in 2009. This doesn't mean that I think they'll put up gaudy numbers, although they could. These rankings are more of a reflection of how I feel each rookie fits into their specific defensive scheme and what teams can expect in terms of overall production from these players in their first season.
Side Note: I stuck to only the defensive players that were drafted in the first two rounds. While plenty of mid-round picks have started and were successful in their rookie seasons, it's a little hard to project at this point which third and fourth rounders could have an impact with training camps still a month or so away. Maybe I'll re-visit this topic once again before the season starts and dedicate another piece to the mid-rounders that could have an immediate impact.
1. Aaron Curry, LB, Seahawks
Curry might not have been the first defensive player to come off the board in April (that honor went to LSU's Tyson Jackson, who was selected with the third overall by the Chiefs), but he was the best defender that the 2009 draft class had to offer. Curry has the ability to play all three linebacker positions in a 4-3, although he'll likely start on the strong side, allowing the Hawks to keep LeRoy Hill at weakside 'backer. Curry has outstanding speed (4.5), size (6'2", 254 pounds) and can stay on the field in passing situations, unlike some linebackers, who are often replaced in nickel packages because they can't hang with backs, tight ends and receivers. Curry isn't one of those situational prospects – he's a complete player and should make a significant impact in his first year.
2. B.J. Raji, DT, Packers
When Dom Capers was hired to be the Packers' new defensive coordinator, the plan was to use Ryan Pickett at nose tackle in the team's switch to a 3-4 front. But when Raji slipped to the ninth overall pick, the Packers jumped at the chance to select the dynamic Boston College product. The immediate reaction to the selection was that Raji would play end and move inside to nose once Pickett becomes a free agent at the end of the season. But now it's believed that Raji will eventually earn the starting nose spot given his size (6'2", 337 pounds) and ability to rush the passer. With Raji at nose, the Packers can change their one and two-gap looks, which hopefully will allow him to either occupy multiple blockers or split the gap and create havoc in the backfield. Defensive linemen tend to struggle in their first season, but Raji could be the exception based on his versatility and overall athleticism.
3. Brian Cushing, LB, Texans
Cushing will start at strong-side linebacker this season, which should mean big things for him in his first year. He'll immediately replace Zach Diles, who was leading the Texans in tackles at the strong-side 'backer position last season before breaking his tibia. Houston likes to flush a lot of action toward its strong-side linebacker, which could allow Cushing to lead the team in tackles this season. Cushing is a fiery competitor who has excellent size at 6'3", 243 pounds and has the speed to close in on ball carriers, although nobody will mistake him for A.J. Hawk. Cushing will have every opportunity to make an impact on an ever-improving Texan defense.
4. Rey Maualuga, LB, Bengals
Maualuga was an absolute monster at USC and could have the same success in the NFL. He's a pure thumper who will make his presence felt on running plays and who is expected to beat out strong-side 'backer Rashad Jeanty for a starting spot. He's also expected to play one of the nickel positions in passing situations, which is a little surprising considering the knock on him was that he was only a two-down linebacker prospect coming out of college. But obviously the Bengals envision big things out of the former Trojan and he could wind up being one of the steals of the second round.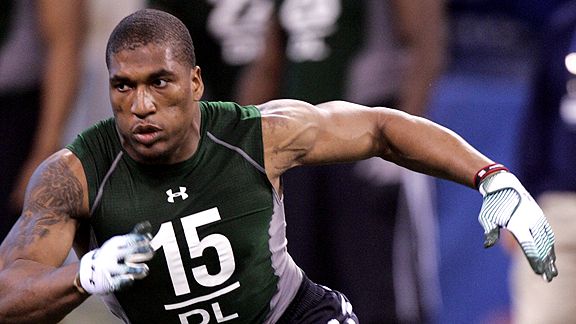 5. Larry English, LB, Chargers
Head coach Norv Turner has already said that English will see plenty of snaps in his first season and chances are he'll be used as a situational pass rusher. English excelled at getting after the quarterback in college and while he isn't being viewed as Shawne Merriman's successor at this point, if he produces right away he'll give San Diego options for when Merriman becomes a free agent in 2010. Depending on Merriman's health and the overall opportunities he gets, it wouldn't be farfetched to think that English could rack up seven to 10 sacks this season.
6. Louis Delmas, S, Lions
Delmas played for one of the worst defensive backfields in the nation last year at Western Michigan, but he was the a diamond in the rough. Some project him as the next Bob Sanders and new defensive coordinator Gunther Cunningham has already compared him to former Kansas City All-Pro Dale Carter. Delmas flies to the football and should make an immediate impact against the run. He might have issues in coverage at first, but if the Lions are patient, he should improve in that area with more seasoning. Rumor has it that he was the most impressive player in the Lions' minicamp in early May.
7. Tyson Jackson, DE, Chiefs
Jackson's impact won't be reflected on the stat sheet because 3-4 ends don't have the opportunity to rack up a lot of sacks. (Plus Jackson isn't much of a pass rusher anyways.) But the fact general manager and top talent evaluator Scott Pioli passed on drafting dynamic linebacker Aaron Curry to select Jackson tells us everything we need to know about the former LSU product's potential. Pioli believes Jackson could be the Richard Seymour of KC's new 3-4 defensive scheme and if that winds up being the case, nobody is going to remember (or care) that he was a reach at No. 3. Jackson isn't much of a pass rusher, but he's outstanding against the run and if he holds his edge, expect the Chiefs' linebackers to make a ton of tackles this season.
8. James Laurinaitis, MLB, Rams
I was surprised to see the Rams pass on Rey Maualuga in the second round, but new head coach Steve Spagnuolo has an eye for defensive talent so I won't question his choice of Laurinaitis. The former Ohio State product is expected to start right away at middle linebacker, forcing Chris Draft to move to the strong side to fill the void created when Piso Tinoisamoa was released. Laurinaitis had trouble shedding blocks in college and seemed to run around blockers instead of through them, but there's no doubt he's a hard worker and will have every opportunity to excel in Spagnuolo's 4-3 defense. He could be a force against the run.
9. William Moore, S, Falcons
Any one of the three defensive players the Falcons drafted in the first three rounds (Moore, Peria Jerry, Chris Owens) could have an immediate impact as rookies because they're all projected to start. But Moore is the most intriguing player in the group because had he come out after his junior season, he would have likely been a top 15 pick. Injuries during his senior season, coupled with a poor week at the Senior Bowl caused his draft stock to fall, but he definitely still has top-15 talent. The Falcons have long needed an impact player at the safety position and might have gotten a steal with Moore in the second round. He should make an immediate impact against the run, which helps, but the Falcons need him to be solid in coverage because Lawyer Milloy was such a liability as a pass defender last year. He'll need to beat out former third round pick Thomas DeCoud.
10. Fili Moala, DT, Colts
It was a little surprising that the Colts drafted a running back (UCONN's Donald Brown) with the 27th overall pick in the first round instead of addressing their need at defensive tackle, but they did well by trading up in the second to nab Moala. The former USC product should start right away and not unlike most rookie defensive tackles, his impact probably won't be felt immediately on the stat sheet. At 6'4", 305 pounds, his main responsibility will be to eat up space and keep blockers off of Indy linebackers, which are two things he should excel at.
Tags: Aaron Curry, Atlanta Falcons, B.J. Raji, Best NFL Defensive Rookies, Best NFL Rookies, Brian Cushing, Cincinnati Bengals, Detroit Lions, Fili Moala, Green Bay Packers, Houston Texans, Indianapolis Colts, James Laurinaitis, Kansas City Chiefs., Larry English, Louis Delmas, Rey Maualuga, San Diego Chargers, Seattle Seahawks, St. Louis Rams, Top 10 sports lists, Tyson Jackson, William Moore