Should Ohio State bench Terrelle Pryor?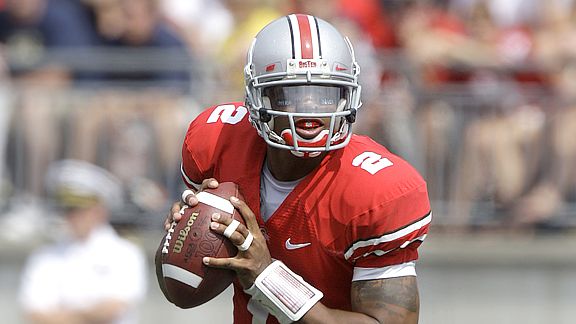 Gerardo Orlando of Cleveland Scores wonders whether or not Ohio State should bench highly touted sophomore quarterback Terrelle Pryor.
As an Ohio State fan, it's hard to imagine watching Pryor play quarterback for two more seasons. The Buckeyes are loaded on defense, and they have a solid offense as well, even with a mediocre offensive line. All they need right now to compete is a quarterback who can hit open receivers and avoid turnovers. They don't need a Vince Young or even a Troy Smith. Put Craig Krenzel on this team and the Buckeyes are competing for a national championship. Instead, we have the Terrelle Pryor train wreck, and an excellent defense is being wasted.

Pryor chose Ohio State because he wanted a program that could help him develop as a future NFL quarterback. That seems like a pipe dream now. The kid needs to focus on just being a competent college quarterback.

What should Tressel do? Would sitting Pryor help? Tressel needs to consider this if Pryor continues to turn over the football. He owes it to the other players on the team.

In the meantime, short of benching Pryor, Tressel needs to rethink what he's trying to do on offense (the issue of Tressel calling the plays will be addressed another time). We can see he's already tried to incorporate the option more into the offense, but we're seeing that Pryor's instincts aren't much better there. Perhaps with practice he'll get better, as the option at least plays to his running ability. Tressel should toss aside a good chunk of the playbook and go to a much simpler offense. Focus on running the football, the option, and other Wildcat-type plays, and have Pryor make much simpler throws that play off the running game. Dig up old tape from Oklahoma and Nebraska from the 1970's, or even most of the Woody Hayes years. Keep it simple until the kid shows he can handle more.

Buckeye fans often get frustrated with Tressel's conservative play-calling, but opening up the offense is not the solution here. He has to pull things back and start over. And, if Pryor can't cut it in a simpler offense, then Tressel will have to make a change.
Well said. I could get into all of the things Pryor is currently struggling with, but the article does a nice job going into detail about the sophomore quarterback's issues with arm strength, accuracy, mechanics, pocket presence, decision-making and leadership.
I find it interesting that Pryor was between Ohio State and Michigan two years ago and he might have been a better fit for Rich Rodriguez's offense than Tressel's. Not that Pryor has run the option well at OSU, but at least Rich Rod could have exploited Pryor's running abilities.
That said, hindsight is always 20/20. If Pryor isn't cut out to be a collegiate quarterback, then Ann Arbor wasn't going to solve his issues.
Posted in: College Football
Tags: bench Terrelle Pryor, Jim Tressel, Juice Williams, Tate Forcier, Terrelle Pryor, Terrelle Pryor accuracy, Terrelle Pryor arm strength, Terrelle Pryor bench, Terrelle Pryor decision-making, Terrelle Pryor decisions, Terrelle Pryor Jim Tressel, Terrelle Pryor Juice Williams, Terrelle Pryor leadership, Terrelle Pryor maturity, Terrelle Pryor mechanics, Terrelle Pryor pocket presence, Terrelle Pryor temperament, Terrelle Pryor train wreck, Vince Young