Terrelle Pryor's HS coach: Tressel should let him run more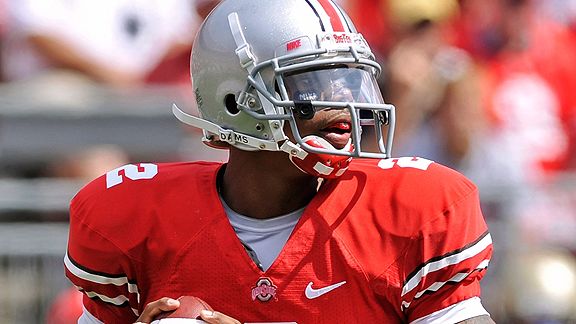 Ohio State sophomore quarterback Terrelle Pryor's high school coach doesn't like the way Jim Tressel is utilizing his former star.
"They need Terrelle to run more," former Jeannette (Pa.) High School coach Ray Reitz said. "They've put the reins on him and they need to let him go free. When I watch Terrelle play right now, I see a robot."

Reitz, now the coach at Latrobe High, said Pryor was recruited on the premise of a more diverse offense.

"All I know is they promised him that they would teach him a pro-style system with both a shotgun and under center," Reitz said. "Jim Tressel is a great coach and he's been running his offense successfully for 30 years. But I'd like to see some zone-read plays where with one mistake [by the defense], he can be gone. With some zone-read plays, they wouldn't be able to take away all the outside runs because he'd being a threat to go between the tackles."

Reitz said he believes that Pryor is being affected by criticism — though he would never admit it.

"It's gotten to the point where I turn the volume down when watching TV now," Reitz said. "I believe the criticism has seeped into his mind. I'm sure there are some mechanical issues. But all I know is he was accurate when he was in high school."

Reitz said it would be a mistake to move Pryor to wide receiver — a move which Tressel said does not figure into his plans.

"He would be a great wide receiver or even a great linebacker," Reitz said. "But that doesn't mean you should move him from quarterback. In fact, I don't think he'd agree to a move to wide receiver. Give him time to grow. Put the ball in his hands and if there is a breakdown let him run. It doesn't look to me like he's relaxed. It doesn't look like he has rhythm. It doesn't look like he's comfortable."
Tressel's questionable game planning and playcalling aside, Pryor hasn't shown that he can handle even the basic fundamentals of the position yet. His footwork is sloppy, his mechanics aren't sound and he isn't accurate. So this notion that Tressel isn't using him effectively is a moot point right now because Pryor needs to figure out the basics of the position first.
But I agree with Reitz that Pryor shouldn't be moved to another position yet. If he continues to regress at quarterback, then Tressel can re-assess the situation at the end of the year. But Pryor is only a sophomore and is still learning so at least for the time being, OSU should continue to try to shape him as a quarterback before moving him to another position.