Fielder goes after Mota in clubhouse following Brewers-Dodgers game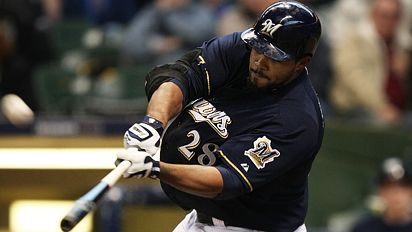 ESPN.com is reporting that Brewers first baseman Prince Fielder tried attacking Dodgers pitcher Guillermo Mota in L.A.'s clubhouse before being stopped by security guards and teammates.
Mota drilled Fielder with two outs, apparently in retaliation for a pitch that hit Dodgers slugger Manny Ramirez in the seventh inning of Los Angeles' highest-scoring home performance in 30 years. Home plate umpire Marvin Hudson immediately ejected Mota, who slowly left the field while Fielder voiced his anger.

When the game ended, Fielder charged through the underground tunnels at Dodger Stadium to the door of the home clubhouse, shouting obscenities with many fellow Brewers trailing behind. Several security guards and teammates Bill Hall and Casey McGehee prevented Fielder from entering the locker room in search of Mota.
Could you imagine Mota sitting at his locker in the Dodgers clubhouse and turning to a teammate saying, "Do you hear something?"
All of a sudden Prince Fielder busts through the doors screaming "Where the f**k is he? Where the f**k is he?!"
I'd be telling one of the members of the clubhouse staff to wear my jersey so I could sneak out the back door.
The rest of this series should be interesting. Milwaukee has played flat since the All-Star break and maybe this incident will fire them up. They're still only five games back of the Cubs and Cardinals in the NL Central, so it's not like they still can't make a run. They certainly have enough hitting, but the pitching has been brutal.